Everything You Need to Know About the School's Financial Issues in 3½ Minutes
Perhaps you take the bus and you've noticed the ride home seems longer. Maybe you weren't feeling the best one day and went down to the nurse's office only to find she wasn't there. Or, possibly you wanted to ask for some research advice, but librarian Stephanie Stocks was at the middle school.
Budget cuts.
Thursday, Feb. 21, Superintendent Dr. Kristen Rickey discussed the school budget as well as present and upcoming financial problems with several students. She shared a packet and addressed some of the following questions.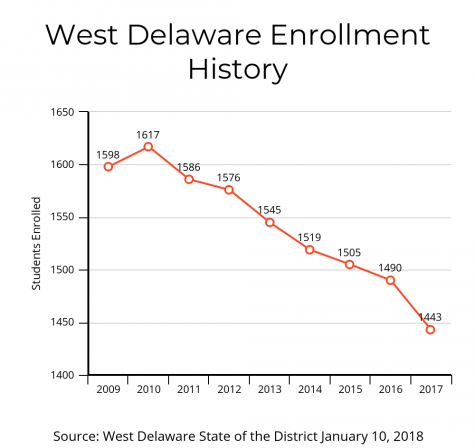 Why isn't the school's budget able to keep pace with current needs?
Iowa school funding is based on the number of students who attend a district, otherwise known as per-pupil based funding. According to the Iowa Department of Education, West Delaware receives $6,736 per student. When a district's enrollment declines, as West Delaware's has, so does its funding. West Delaware has lost 155 students from 2009 to 2017 or around 19 students per year.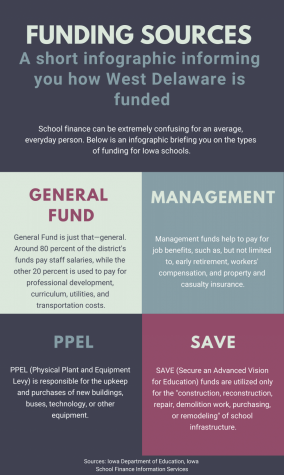 Why doesn't the school just take the money that they use for the sports teams or Chromebooks and use that?
The school receives state funding divided into four main categories; General Fund, Management, PPEL, and SAVE. Schools can't transfer the money from one category to another.
To some, it may appear that the school's budget has been adequate over the years. Why is that?
Rickey has "been creative" about the budget. She explained that bus routes have been combined to relieve the costs of fuel, leaving some students on the bus up to an hour. In addition, the West Delaware County Community School District currently employs one certified nurse, down from two nurses in 2009; four counselors, down from five counselors in 2009; and two librarians, down from three librarians in 2009.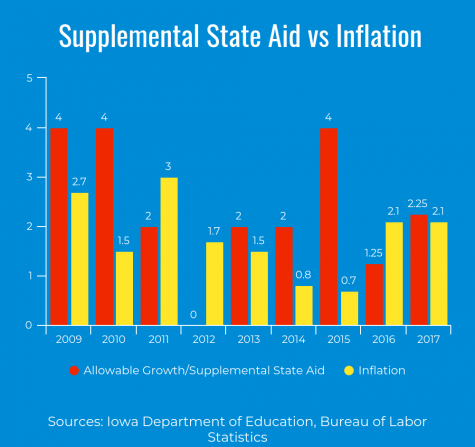 How does the state handle school funding?
Every year, the state of Iowa is to decide the amount funded per-pupil, also known as the Allowable Growth/Supplemental State Aid. The idea is to help combat inflation and expected raises. However, some years, the state has failed to keep up with inflation. In fact, in 2012, according to a report by the Iowa Department of Education, "The Iowa Legislature was unable to reach agreement regarding supplemental state aid (previously allowable growth) for FY2012, leading to a default rate of zero (0) percent." This means that Iowa school districts received the same amount of money per student as fiscal year 2011.
What could the students possibly do about these funding challenges?
Students could contact their legislators. The most influential way of contact is in person. Currently, a delegation of students is planning to visit the state capitol to talk with Iowa legislators. For more information, contact teacher Jordan Pollock.
Foreign language teacher Marianne Sandberg encourages students to present their point of view quickly and politely. "The most important thing is to tell your story; find something that matters to you and something that you really care about," Sandberg said.
"
The most important thing is to tell your story; find something that matters to you and something that you really care about.
— Marianne Sandberg
Sandberg further explained that writing a personal and concise letter to legislators is also powerful. Some other options include calling, texting, or emailing them. Legislators representing Delaware County are more inclined to listen to citizens of Delaware County, but students may find success in contacting other legislators as well. "Your legislator is a human being, and they're trying to do what they perceive as the right thing," Sandberg said.
Leave a Comment
About the Contributor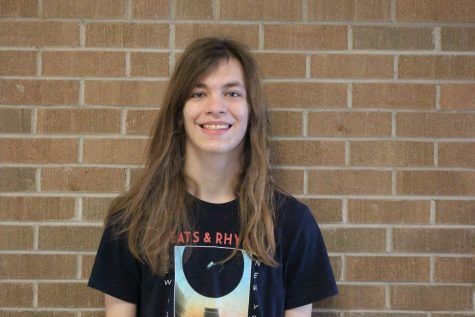 Gavin Drees, Web Master
I'm Gabby Drees, and I'm a senior. I'm involved in crew for both show choir and musical and I'm in NHS. Outside of school I enjoy photography and...