On Monday, Sept. 11, the West Delaware Community School District hosted a Work-Based Learning Tour at Henderson Products in Manchester after Linda Fandel requested a visit with the school.
Fandel, the Governor's Liaison for Work-Based Learning at the Iowa Workforce Development, requested a visit with the school as part of an Iowa high school Work-Based Learning tour conducted by the Iowa Workforce Development Director Beth Townsend and STEM Council Executive Director Jeff Weld.
Iowa Senate Member Dan Zumbach, Iowa State Representative Craig Johnson, Delaware County Economic Development Director Donna Boss, School Board members, and local school representatives attended. In addition, representatives from Henderson Products, Fareway, and Boubins along with teachers Seth Harms, Rachel Findling, Christian Carper, and Jason Guyer attended as well. Three current West Delaware apprentices participated in the panel discussion held at the end of the tour.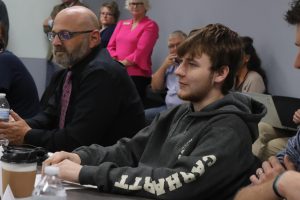 Greetings, introductions, and an overview of the West Delaware apprenticeship program were followed by a tour in which Henderson Director of Manufacturing Kevin Schueller showcased the daily responsibilities of an apprentice at Henderson Products. 
Next, employers, educators, and student apprentices participated in a panel discussion where they were asked a series of questions about how work-based learning can transform education and the workforce. 
Prior to 2018, West Delaware was looking to provide students with work-based learning opportunities. In 2018, West Delaware became the third school district in the entire state to provide its students with a registered apprenticeship in welding.
West Delaware initially offered the welding apprenticeship through Henderson Products, XL Specialized Trailers,  and Stanley Black and Decker. In the next few years, Principal Tim Felderman and Superintendent Dr. Kristen Rickey expanded apprenticeships into the ag service, auto trades, meat cutting, and propane technician industries. They also embedded pre-apprenticeships into the Foods II and Construction Trades classes.
Since 2018, West Delaware has seen 18 apprentices complete their respective program with ten currently active students. 
Students who participated in the panel discussion included R.J. Helmrichs with XL Specialized Trailers, Alex Thurn with Boubin Automotive, and Bane Long with Fareway.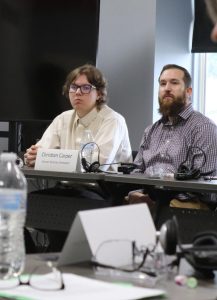 Thurn first heard about the apprenticeship program from teacher Jason Guyer.
"I wasn't so sure about it at first, but I wanted to learn how to work on my car," Thurn said. "It has been a great experience. I want others to consider it if they are thinking about going into the automotive industry."
Teacher Christian Carper was the first to inform Long about the meat-cutting program in Foods II last fall.
"I'm thoroughly enjoying cutting meat behind the counter at Fareway," Long said. "Work-based learning has been fun as I prefer learning hands-on over instructions. It's nice to learn skills for the future while still being in school."
After being in their respective apprenticeship programs for almost a year, Helmrichs and Thurn changed their thoughts about their future careers. 
"Before hearing about it (the apprenticeship), I used to want to stay at home and work on the farm," Helmrichs said. "I'm not the biggest fan of school, and I didn't want to go into debt by going to college." Now, Helmrichs plans to continue welding.
"
There is a major difference in classroom learning and the real world. The best way to close this gap is through work-based learning opportunities for students.
— Dr. Kristen Rickey
Thurn wished to pursue a career in piloting planes prior to being involved in the automotive apprenticeship.
However, work-based learning experiences at Fareway have cemented Long's future plans.
"After I graduate, I want to enlist in the Air Force and go to college to get my four-year degree," Long stated. "After about 20 years of service, I hope to use the money I've saved to open my own restaurant."
As work-based learning opportunities continue to open up for students, Rickey believes other districts should push for these opportunities even if the district doesn't know how it will go. She believes it should be a part of the modern education system as it prepares students for real-world employment. These opportunities help students decide whether they want to go straight into the workforce or try college after graduating from high school.
"There is a major difference in classroom learning and the real world," Rickey said. "The best way to close this gap is through work-based learning opportunities for students."