Hallie Knutson Paints a Plan For Her Future
Since senior Hallie Knutson's first memory of trying to draw a person in kindergarten, her art has grown by leaps and bounds. 
Knutson works with many mediums of art including clay, beads, paints, and pencil. Last year, she spent a few months on an oil painting that she submitted to the WaMaC art show. She spends an average of about five hours a week painting, and one painting takes close to four hours depending on the size. 
Technology is one place where Knutson finds her inspiration. 
"I follow a lot of artists on Instagram, and I look at their art," Knutson said. "It doesn't really inspire my own, but it makes me want to do my own. When I'm doing scenery, sometimes I'll get inspiration from Minecraft (video game) as well."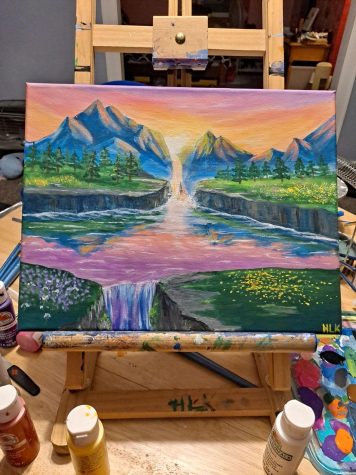 As she starts creating, Knutson goes through a process. 
 "I have a picture in my mind, and I try to recreate it, " Knutson said. "It doesn't always work out because the picture in my mind is kind of fuzzy. It's kind of like seeing a picture from far away."
In the future, Knutson wants to become a nail tech while saving up to open up her dream art shop with a cafe. 
The shop would sell art supplies, with a section of the store dedicated as a space where people can come in and make anything from ceramic pieces to paintings. She also wants to have a kiln where patrons could fire ceramic pieces. 
"People would be able to come in and create whatever they want," Knutson said. "I want to create a place where people can express and enjoy themselves freely without worrying about the stresses of life."