Shredding Through Summer
Hard work, dedication, and fun has helped up-and-coming Memphis Voelker become a top-level wakeboarder.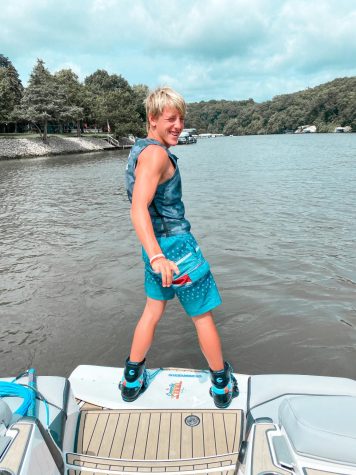 Freshman Memphis Voelker is one of the best competitive wakeboard riders in the state.
At only twelve years old, Voelker set himself up for success when he decided to venture into the sport of wakeboarding on Lake Delhi.
Three years later he is now one of the few competitive riders in the state who can land flips, 360s, and more. Riding behind a Moomba boat, Voelker currently shreds on a Conelly 141 board. Despite the love for his setup, Voelker is excited to upgrade this summer to the new Shaun Murray Pro board, one of the best on the market. The reason Voelker has such high-performance gear is that he is high-performance. 
"My favorite trick to throw is definitely a heelside tantrum. It's an inverted backflip where you flip over the heelside of your board," Voelker said. "It was the first flip I landed and catching major air is the best feeling." 
One of the few reasons Voelker has reached this level happens to be his dad, Corey Voelker.
"He is one person that comes to mind when I think about where I am today," Voelker said. "He pushed me to be my best, gotten me lessons with some great riders, and has always been there for me." 
Voelker's father has taught Voelker to love learning and failing. "It finally makes landing that trick so much better," Voelker said. 
Throughout his career, various influential people and groups have helped Voelker become a better rider.
In the summer of 2021, Voelker joined the Hartwick Huskys Ski Team. With the Huskys, Voelker fell more in love with wakeboarding, waterskiing, and the water in general. Skiing with this team, Voelker competed at the Midwest Regional and National Water Show Ski Tournament. Voelker helped his team claim fourth place at Regionals and twelfth in the Nation.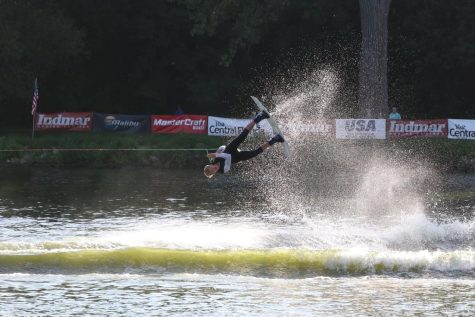 At the Midwest regionals, Voelker was the only rider to throw an inverted flip, so, of course, he chose his favorite heelside tantrum.
"Skiing with the Huskys has made me more comfortable on the water," Voelker said. "I've learned new tricks and how to perform for people." 
The Huskys taught Voelker how to do one of his favorite tricks, ATB  (around the boat) on a wakeboard. This is when the skier skis a 360-degree circle around the towboat.
"It's definitely more difficult than on a normal ski, but it's also a lot more fun," Voelker said.
Besides his father and fellow show skiers, Teige Hunt has also highly influenced Voelker.
Before passing away in the summer of 2020, Hunt was quite the shredder himself. Being one of the Lake Delhi river rats for this generation, Hunt inspired many new borders with his self-taught flips and tricks. 
"Before Teige lost his life, I hadn't really committed to learning the sport," Voelker said. "After the accident, it gave me a reason and influenced me to learn and get better."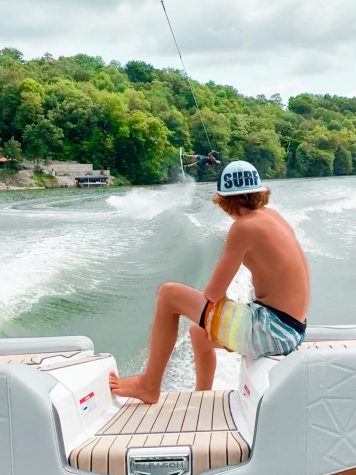 Voelker, close friends with the Hunt family, now skis with Teige's younger brother and sister, Kash and Saige Hunt. 
"When we're all out there skiing behind the Nautique, you can almost feel him," Voelker said. "It is a pretty cool feeling."
Voelker wants everyone to know that wakeboarding isn't as hard as it seems. It offers great opportunities, lessons, and friendships. And if anyone wants to learn, the Voelker boat is "always open for new riders."