West Delaware Student Signs into Navy
Normally when you think about heroes, you think about Superman, Spiderman, or the Flash—not your typical high school boy.
Elijah Heims (12) signed a life-changing contract on Sept. 10. Heims can now say he is a Navy sailor and possibly on his way to hero status.
After finishing the ASVAB test (Armed Services Vocational Aptitude Battery) on Sept. 9 in Des Moines, Heims learned that he qualified for the Advanced Electronics Field.
Heims has an extensive family history of military service, so in his mind, the Navy was the right decision.
"Seeing my uncle Sam in the Marines made me want to join," Heims said. "My great-grandpa served in WWII in the Navy, and my grandpa served in Vietnam in the Marines. Several more of my relatives served too. They are the reason I joined."
As of right now, Heims plans to make the Navy his career. Heims leaves for basic training in Great Lakes, Illinois, on June 30.
"
The Navy has always been something I've wanted to do, and now I have the chance to live out my dream."
— Elijah Heims
When he was younger, Heims always wanted to do something with construction but didn't know whether he wanted to attend college or join the service.
"The military could give me schooling for (construction) jobs outside of the service if I make the decision to leave," Heims said.
Navy sailors go through eight weeks of basic training before they do specialized job training. Heims' job assignment will determine the length of job training. Heims has the option to be an Electronics Technician or a Fire Controlman.
Heims looks forward to the three main components of basic training. Mentally, the drill sergeants build the cadets up to be team players. Physically, cadets go through a lot of rigorous training to build endurance. In terms of education, most of their schooling is hands-on.
They leave basic training with all the knowledge they need to successfully complete their jobs.
Heims signed a four-year contract with a 24-month extension. This means that the four years will be active duty and the extension will allow for his basic training and specialized job training.
"Basic training won't last forever," Heims said. "The Navy has always been something I've wanted to do, and now I have the chance to live out my dream."
Leave a Comment
About the Contributor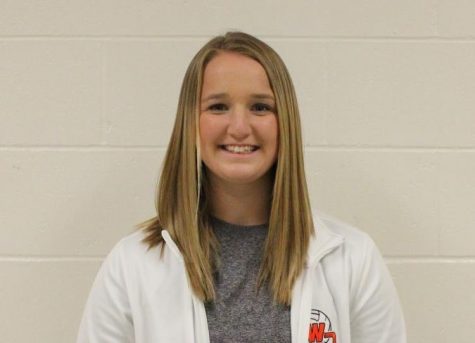 Aleah Heims, Staff
Hey there! I am Aleah Heims, and I am a senior. I am an Editor for The Inklings and our yearbook. I am involved in volleyball, speech, show choir, student...