Preparing for the Big Day
Students Prepare for All State Auditions
Every day, ambitions continue to build higher and higher throughout the music hallways. These bundles of nerves exist for only one day: All State audition day.
Fifty music students have experienced these jittery feelings as they have worked through the challenging music to prepare for auditions on Oct. 26 at Independence High School. Forty-five choir students began the process as early as July, when the All State Vocal music was released to the public.
Likewise, five instrumental students began their process in August when the All State Instrumental études came out.
In order to audition, vocal students are expected to sing seven different pieces a cappella for judges on audition day.
Kaleah Carter (12) is experiencing the process for the first time as a senior.
"I didn't do the All State process my other years of high school because I felt like it was overwhelming to balance in my schedule and learn all the music, which I was right, but I've realized it is so worth it," Carter said. "I have made so much progress in my abilities like learning how to come in at the right time, how to hit higher notes and learning how to count my part better. I think this process will help me learn new pieces faster in the future."
Anna Werner (11) has gone through the process three times.
"The process has gotten much easier," Werner said. "This year it's been easier to focus on more musical things because I could read the music faster and learned the pitches so much easier since I've done this before. I am still nervous to audition this year because I don't want to be the one who messes up everything for my group during the audition."
For instrumental students to audition, they need to play part of a solo, play excerpts from études chosen by the All State Committee and play four randomly selected scales for a judge on audition day.
Jacob Wenger (11) has auditioned on tenor saxophone for the past three years.
"Like usual, I'm especially scared to audition on the faster études," Wenger said. "However, this year I've practiced more, began preparing scales over the summer and can sight read easier because of my audition experience. I feel good going into this audition and believe it makes you a stronger musician even if you don't get accepted."
If a musician is accepted, they will perform with thousands of other accepted students from around Iowa at the All State Festival on Nov. 23 in Ames.
About the Contributor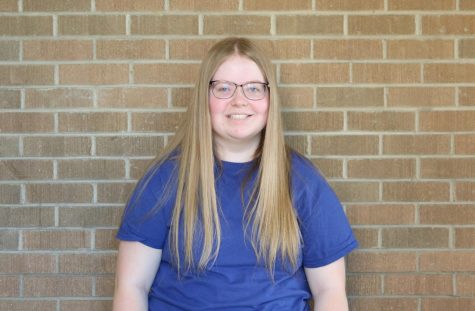 Natalie Kehrli, Contents Editor
My name is Natalie Kehrli, and I am a junior. I'm involved in FBLA, student council, speech, musical, back-up band, jazz band, drumline, NHS, and French...