The Homeroom Holiday Door Contest
Hang on for a minute...we're trying to find some more stories you might like.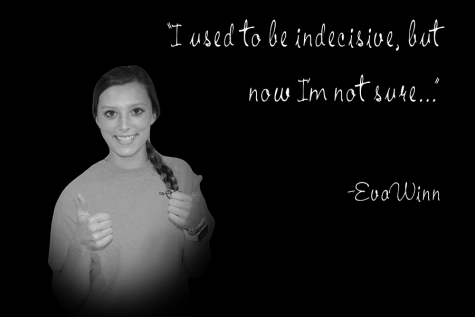 More stories from Eva Winn
It was the Wednesday before winter break and all through the halls, students scurried to decorate the best door of them all.
On Dec. 19, the administration held the first-ever holiday door decorating contest during homeroom. Students and staff in each homeroom spent 35 minutes collaboratively decorating their classroom doors.
"At first we thought about a Charlie Brown idea, but later we decided it would be a popular choice, so we switched to a Buddy the Elf theme," freshman Carlee Smith said. "Mrs. (Jamie) Smith told us that she and Mrs. (Abby) Osborne usually are competitive in these types of things."
Competitiveness swarmed through the school hallways. "There was lots of creativity and yelling," sophomore Addie Reetz said. "Everyone was just kind of running around and overlapping each other while trying to draw and color."
Aside from competitiveness, the hallways were also upbeat and fun. "It was very cheerful and festive," junior Jacob Georgen said. "It made school more fun and put everyone in a good mood."
Teacher Michael Mullis' homeroom students strived to beat art teacher Jolene Pitzenberger-Timp's class. "They (Pitzenberger-Timp's homeroom) had a creative idea and then made it 3D," junior Luke Farmer said. Pitzenberger-Timp's students decorated their door with a 3D snowman made from foam cups and cardboard.
Teacher Helen Temeyer's homeroom class decided on Olaf from the movie "Frozen" floating in a cup of hot chocolate. "Deciding what the theme was going to be was the best part because there were some good ideas," sophomore Jamison Smith said.
Some students were so determined to win that they used free time in other classes, time during lunch, and time after school to finish their homeroom door.
"I was impressed with Lanie Then's work ethic," Temeyer said. "She worked throughout third block to finish our 3D Olaf. It was awesome!"
Callison Lang's homeroom decorated a big, bulky Christmas tree made of paper with many colorful ornaments and gifts. They received the Most Colorful Award.
Pitzenberger-Timp's homeroom received the Most Creative Award for their 3D snowman. School nurse Elaine Gibbs also won Most Creative for constructing a Christmas tree from air-filled rubber gloves.
Diane May's homeroom received the award for the Most Holiday Spirit. Using a science theme, students decorated the door with a droopy pine branch, ornaments, gifts, and the clever name of "Chemistree."
Principal Tim Felderman is working with the winning homerooms to determine prizes.