Stat That: West Delaware Girls Take Over Wrestling Stats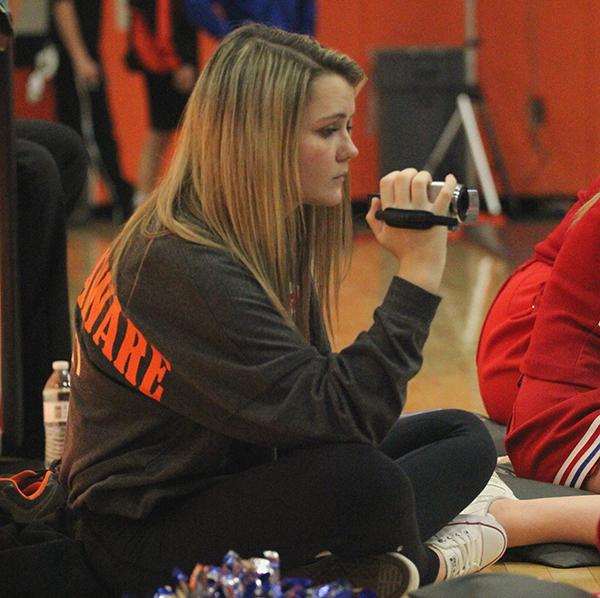 Hang on for a minute...we're trying to find some more stories you might like.
From December until February, the 13 administrative assistants will spend seven of their Saturdays operating the Track Wrestling online program, videotaping, and being Head Coach Jeff Voss' "right-hand assistants."
Coach Voss believes the administrative assistants play a key role in the wrestling program.
"The girls are responsible for running the computers at the tables for our live scoring programs and videotaping all of our matches for the boys to watch," Voss said. "I am excited that so many people want to be involved on our program."
"
"I am excited that so many people want to be involved on our program."
— Coach Jeff Voss
Four years ago, the West Delaware wrestling program started using Track Wrestling, a website used at meets and tournaments to provide updates for those who aren't in attendance. However, running the program isn't always smooth sailing.
"I was doing Track Wrestling during an off-season tournament, and I marked the wrong winner," Meghan Hoefer (11) said. "Luckily, I realized what I did and could go back and fix it!"
Senior Maleah Georgen started doing stats her freshman year because she enjoyed attending wrestling meets.
"My favorite thing to do is Track Wrestling because it keeps me 100 percent involved in the match," Georgen said. "Sometimes it's a challenge, but I enjoy it!"
Senior Heidi Yonkovic has watched her brothers wrestle for as long as she can remember and has been an administrative assistant since her junior year.
"My brother wrestled when he was younger and through his high school career," Yonkovic said. "It's a sport that has been popular in my family for a long time, and I like to stay involved."
Hoefer enjoys watching wrestling and being an administrative assistant. "I've been attending wrestling tournaments since I was young, and I love seeing our crowd get so excited after a Hawk win."