Pumping Up The Crowd
Student section adds posters to make things more exciting
It was time for a change. 
Seniors Leah Wegmann and Macey Kleitsch, along with junior Heather Heims, recently decided to bring more Hawk spirit to girls' basketball games.
They took action by making posters and head cutouts of the senior girls, in hopes of adding more excitement to the games.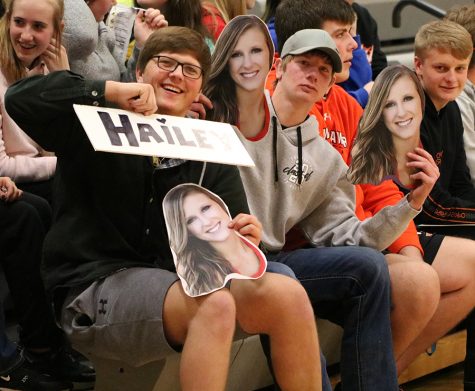 "Leah, Heather and I came up with the idea because we wanted to try and get people to come to the games to support the girls as much as possible," Kleitsch said. "We basically just wanted to make coming to the games super fun so more people would come and support."
The girls, along with help from teacher Jolene Pitzenberger-Timp, printed several life-sized signs of each senior player's face. Other students joined in and made signs with sayings like "Stud Muffin" and the names of the varsity players.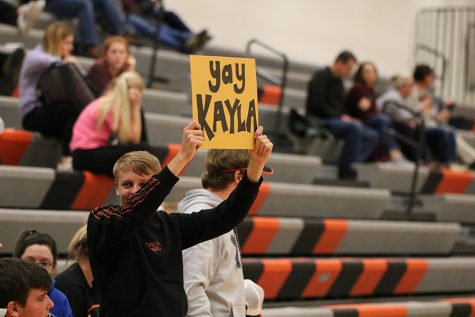 "When we used to play on the team, not having a student section like the boys' team did, was something you noticed," Sydney Morris (12) said. "I'm glad that Leah and Macey came up with the sign idea. It made a difference in the student section."
As the signs came into the crowd so did more students. The crowd became more active in cheering and supporting the girls. 
"As the student section started to actually cheer and come to our games, we started to have a more positive look on our season," basketball player Mia Peyton (11) said. "It was cool to see the signs for the seniors too. I hope it carries into next year for us."