Science Bowl
West Delaware Competes in State Science Bowl
Science teacher Diane May, along with a team of five West Delaware students, attended the 30th annual Science Bowl at Iowa State University on Jan. 25.
Students from 33 schools across Iowa competed against each other to answer questions in the following categories: biology, chemistry, Earth and space science, energy, mathematics, and physics. 
Beginning with a birthday cake breakfast, students David Reddingius (12), Brandon Buelow (12), Eva Winn (11), Kaley Pettlon (11), and Molly Mullis (11) started their morning with a round-robin match against Sumner Fredericksburg, winning with a score of 16-8.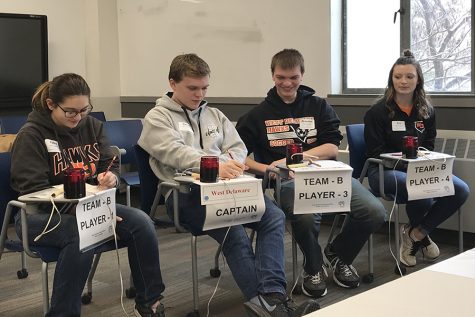 In their second round versus Hartley-Melvin-Sanborn, West Delaware won with a score of 42 points, their highest score of the day. Following this, West Delaware experienced their first defeat in a match against North Liberty, losing 68-0.
 Team captain David Reddingius liked the challenge of facing larger schools. "Overall, it was pretty fun to get the chance to participate in this event and learn how much more people know than I do."  
After lunch, West Delaware moved on to the double-elimination tournament of the Science Bowl, losing to their most formidable opponent yet—Valley (West Des Moines). In 1993, Valley went on to win the national Science Bowl, the only Iowa team to ever claim a national title.  
A close match against Bettendorf, 32-26, saw the end of West Delaware's run in the 2020 Science Bowl. 
"I was pleased with the team's performance," said May. "They made it into the second round of playoffs in their first year."  
The last time West Delaware participated in Science Bowl was 2012, but May is hopeful that more students will be interested in Science Bowl in the future. "Spread the word about Science Bowl in case kids want to be involved next year," May said.