Celiac Disease: Life Without Gluten
Senior Meghan Hoefer Faces Celiac Disease
Hang on for a minute...we're trying to find some more stories you might like.
In July of 2017, senior Meghan Hoefer was diagnosed with a life changing illness: celiac disease.
Celiac disease occurs when someone is allergic to gluten and any food containing wheat, barley, or rye.
Hoefer says it's hard knowing what certain foods contain.
"You would think some things are gluten free, but you don't know if the restaurant adds  gluten products to (their food)," Hoefer said. "I use a gluten free scanner on my phone to check if certain foods contain gluten or not."
Another disadvantage to celiac disease is the cost. Most gluten free foods cost more than regular products containing gluten.
"I never realized that gluten free foods cost more than the food we used to buy," Hoefer said. "My family has switched to eating a lot of gluten free foods, so it can be expensive going to the store for groceries."
Managing what foods Hoefer can and cannot eat can be challenging. Before going out to eat, she must determine whether or not the restaurant prepares meals that doesn't contain gluten.
"Bread is one of the foods I miss the most because I had it every morning," Hoefer said. "Being celiac takes more planning because I can't just go to Kwik Star or Subway when I want to grab something to eat."
Hoefer remains optimistic in spite of her diagnosis.
"There are others throughout the school that are going through the same thing I am," Hoefer said. "It's encouraging to know I'm not alone."
About the Writer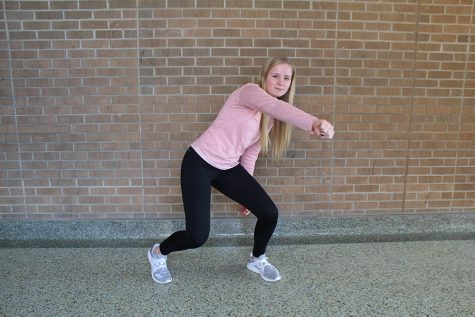 Kira Vaske, Photography Editor
I'm Kira Vaske and I am a senior. I'm involved in softball, volleyball, track, student council, NHS, FCA, and I am a wrestling administrative assistant....