Springing into Prom
Promposals: the Talk of School
Hang on for a minute...we're trying to find some more stories you might like.
Promposals have been the talk of schools every spring, and each year, they become more and more creative.
Alex Zumbach (12) asked his date Madalynn Burke (12) to prom, on Feb. 24, at the bowling alley after a show choir competition.
"Maddy and I are fair king and queen," Zumbach said. "I wore my crown and sash and cut out a sign in the shape of a crown that said, 'What's a king without a queen? Will you rule over prom with me?'"
"Even though Alex and I planned on going together, I was surprised when he asked me at the bowling alley," Burke said.
Justin Grawe (11) asked his date to prom, Jadyn Werner (9) in a not-so-common way. "He posted a picture of himself holding a sign that said 'PROM?' with the caption saying, "Hey @jadynwerner," Werner said. "Then he ran into the basement where I was and kept saying over and over to go like his Instagram picture. I thought it was a joke. I wasn't thinking it was the real deal."
Grawe uses Instagram everyday, so he decided to incorporate his Promposal with it. Grawe said, "I was a little nervous because I never asked her beforehand, and she could have said no, but that's the risk, right?"
Kira Vaske (12) asked her date Jack Neuhaus (10) through a photograph. She took a photograph of a stuffed bear and a piece of paper with the word "Prom?" written on it.
"I had his mom put the picture in his suitcase so he would get it when he got to Mexico," Vaske said about Neuhaus who was going on vacation with his family.
Neuhaus' mom recorded his reaction while opening the suitcase in Mexico. She then shared it with Vaske. After sarcastically saying no on the video, Neuhaus then Snapchatted Vaske that, yes, he would attend prom with her.
About the Writer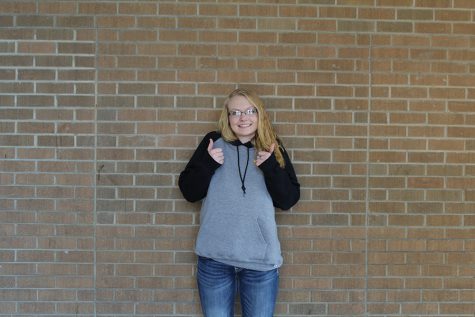 Lauren Ryan, Staff
I am Lauren Ryan, and I am a junior. I am involved in FFA. In my free time I enjoy watching Grey's, listening to music, and being with friends. I also...