Something Just Clique'd: Student Writes Piece for Freshmen Choral Reading Group
Hang on for a minute...we're trying to find some more stories you might like.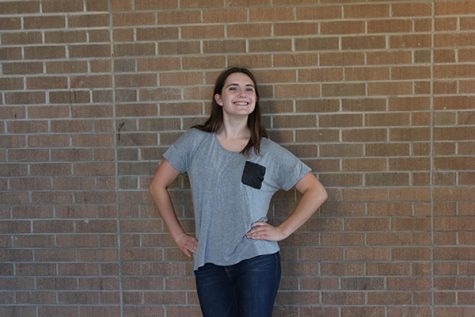 More stories from Hannah Wenger
Clique.
That's the first word that popped into junior Tyler Salow's head when speech coach Abby Osborne asked him to write a story about a girl's experience in high school for Osborne's freshman choral reading group.
The team, made up of fifteen girls, prompted Salow to incorporate characters reflecting the cliques girls could encounter in high school. The characters represent five cliques, with three actors playing each character.
"I thought including cliques would give the group a diverse group of elaborate costumes and characters to play with," Salow said.
The story, "A Girl's Guide to a Great High School Life," explores the differences between female students in five different cliques. Each clique has separate readers with defined stereotypes. For example, the goth character's dialogue is distinguishably moodier than the others, and in performance, they'll wear excessively black makeup and clothes.
"I am playing a nerd," said freshman Morgan Collier, a performer in the group. "I get to talk with a nasally, high-pitched voice, and I am always doing something intellectual, like writing in a notebook."
Salow finished the thirteen-paged script before the first practice. "I had only given him a week to finish the story," Osborne said. "He still managed to finish it in a few days."
Beyond writing the choral reading, Salow also attended the group's practices to oversee changes in his script. "Originally, we had theater geeks, instead of goths," Salow said. "We felt goths had more pizzazz than theater geeks, so we made the change."
All fifteen girls loved Salow's script; freshman Anna Werner, another member of the act, said, "I really like performing the different points-of-view. It's so nice to hear each clique's different voices and thoughts."
Salow has high hopes for how the story will be received in the upcoming speech season. "I'm interested to see how far the piece will go," Salow said. "Maybe they'll make All-State. That would be cool."
As for future writing opportunities, Salow feels he's just beginning his creative journey. "Knowing Oz (Osborne), she'll have me do another piece next year," Salow said. "Who knows? Maybe I'll even begin larger projects, like a play, in the future."