From Spain to America: a Journey of Differences
Hang on for a minute...we're trying to find some more stories you might like.
Imagine leaving your home to live with a random stranger. Imagine waking up in the middle of the night ready to eat breakfast. Imagine being forced to adapt to a brand new culture. This is something foreign exchange students have to go through the first few weeks in a new country.
Laia López Rigol, a junior from Barcelona, Spain, is attending West Delaware this school year.
As part of a scholarship program, Rigol chose between the United States and Canada. She picked the United States because it's different than what she's used to. "It's like in the movies," Rigol said. "Everything is bigger than you think."
One of these differences include the use of cars. In Barcelona, many rely on public transportation. Rigol is shocked how Americans feel about cars. "If (Americans) have to go from the school to the practice field, which is five minutes walking, they go by car, because they don't want to feel tired, but then, they run a 5k!"
Rigol looks forward to experiencing Iowa winters. "We don't have snow (in Barcelona) because we're really close to the sea. We have very humid temperatures." A typical Barcelonian winter has an average temperature of around 42 degrees, compared to the average of 23 degrees in Iowa.
Coming from a Mediterranean diet, Rigol struggles with how Americans eat. "(Americans have) frozen fish and frozen vegetables, and you cook a lot with butter," Rigol said.  "Everything is breaded.  I'm wondering if there's something that's not fried in America."
Rigol, while she didn't choose Iowa, wouldn't change it for the world."(Iowa) has a lot of corn and nice people," Rigol said.
Rigol arrived on in Iowa Sept. 2 and will leave America on June 4th.
About the Writer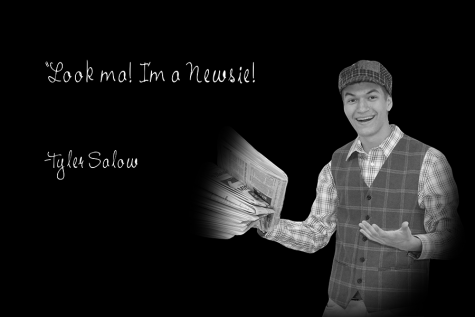 Tyler Salow, Web Master
I am Tyler Salow and I am a Senior. I'm also the Webmaster of the Inklings, and no, that does not mean I am a spider. I am also involved in anything that happens to occur in the Hanson Auditorium including, but not limited to… Speech, Band, Back-up Band, Jazz Band, Musical, Play, as well as being involved in Student Council, NHS and our school's robotics team.