Little Changes, Big Differences
Cross Country Girls Give GPS Watches a Try
Hang on for a minute...we're trying to find some more stories you might like.
Times started to plummet as members of the girls cross country team embraced GPS watches.
Jason Guyer, the new assistant coach, introduced the benefits of running with a GPS watch to the girls early in the season. "Training with a watch to keep on pace or within a time range makes the training for a given practice much more meaningful," Guyer said.
As the season progressed, several girls started to wear GPS watches to know their pace during practices and meets. However, during a meet the girls turned off the GPS feature due to IHSAA rules.
Senior Maddy Burke liked wearing a watch because she was able to have an idea about when she would finish her race. "This helps me decide whether I'm running too fast or too slow," Burke said. "It's nice knowing the times I need to meet my goal. When I didn't know what times I needed, I felt like I was running blind."
Along with wearing watches to know pace and time, the majority of the girls started to write goal times on their arms. Runners wrote where they wanted to be at each mile or half mile. "I personally feel like it's helped me because it's better than going in blind," Hannah Axline (10) said. "I like to have a game plan."
Head Coach Ben Moser noticed a big difference when the girls knew their goals and wore watches.
"When the girls can train at precise paces, heart rate zones, and distances that are specific to them and have a watch that is basically another 'coach' on their wrist, they become more consistent in their training and racing," Moser said. "This year we had more girls with (watches), and we have noticed that they have been a little more successful than those that are out running blind."
As the season came to a close at districts on Oct. 19,  Moser is proud to have ended the season with fourteen career personal records and eight season personal records at the WaMaC meet.
About the Contributor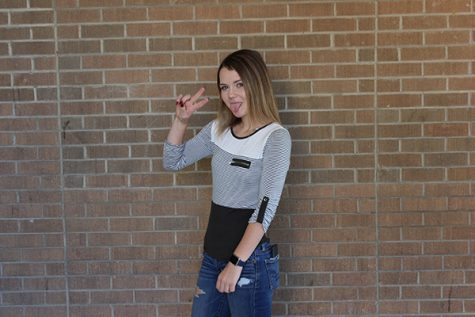 Isabelle Willey, Staff
I am Isabelle Willey, and I am a sophomore. I am involved in cross country, musical crew, speech, student council, FCA and wrestling cheerleading. I am also the Snowmobiling Youth Coordinator for the state of Iowa and have started a statewide youth organization. When I am not busy, you can probably find me eating ice...