Cross Country's Personal Records Pay Off
Hang on for a minute...we're trying to find some more stories you might like.
Improved personal records has led the cross country teams to a successful season.
Eighteen of the 27 boys and 14 of the 34 girls set a new personal record this season, the majority at WaMaC held Thursday, Oct. 12, at Vinton High School. The boys' coach, Dale Meyer, and girls' coaches, Ben Moser and Jason Guyer, were pleased with the results of each runner and the teams as a whole.
With his number two and number three runners out due to injury, Moser commented on the competitive spirit that drove the girls to compete for varsity.
"Varsity was never the same for any meet," he said. "We had about 15 girls that could find a varsity spot at any time, and it created competition in practice, which in the end made us better."
Moser appreciated the senior leadership, especially from Abby Loecke as she dedicated her summer and offseason to reduce her time. She decreased her time from 23:13 to 21:34.
"She has been our number one all season and our rock all year long, and I hope that her transformation will be motivation for some of our younger runners going forward," said Moser.
The top times for the girls' team, from seniors to freshmen, were Abby Loecke (21:34), Maddy Gray (23:45), Gracie Weeks (23:12), and Brigid McMahon (22:57). Also by grade, the boys' were Noah Crumpton (17:55), Cole Turnis (20:32), Nathan Goranson (18:15), and Blake Smith (18:09).
Meyer expressed happiness for the JV boys' team as well; at Vinton on Sept. 19 and at Independence on Sept. 23, they were back-to-back JV champions. Their reward, instead of a trophy, was oddly a squash.
"Many times the JV guys don't get the attention or credit they deserve," Meyer said. "Tristan Voelker has a been a great leader for them along with my varsity seniors Ben Litterer and Noah Crumpton."
Litterer and Crumpton competed every meet for the number one spot on varsity, driving them to break their own personal records and running under 17 minutes.
"The competition helped me in races where I wasn't running as strong; I knew I had to keep a fast pace to stay with Noah," said Litterer. "In those races, I may have trailed off, but the competition kept me going."
West Delaware is hosting the Class 3A District meet Thursday, Oct. 19, at Hartridge Golf Course. Varsity girls run at 4:30 p.m. and varsity boys, 5 p.m.

About the Writer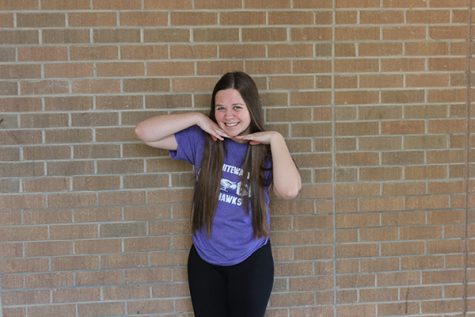 Andrea Salow, Contents Editor
I am Andrea Salow, and I am a senior. I am involved in bowling, show choir, choir, FBLA, speech, NHS, musical, play, and WDCVC. My addictions include pasta...