Becca's Beloved: Sophomore Rebecca Cole Expresses Her Love for Anime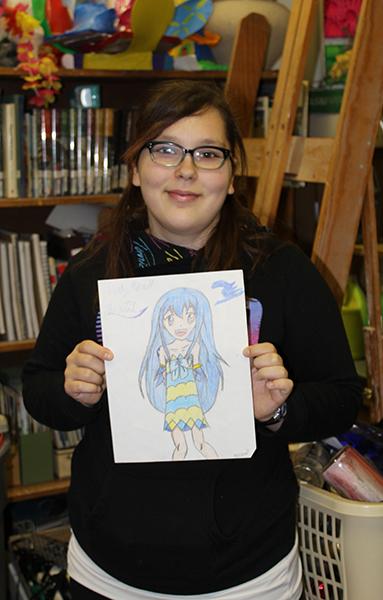 Hang on for a minute...we're trying to find some more stories you might like.
Sophomore Rebecca Cole's obsession with Anime, Japanese cartoons, has grown into a deep love and appreciation of Japanese art.
Her obsession began as a fifth grader when she was flipping through cable channels trying to find something to watch. She stopped at a particularly colorful cartoon: "Naruto," a coming-of-age Anime about a young ninja who aspires to be the leader of his village. The main character, Naruto's combination of a goofy personality, pig headedness, and honor captivated Cole.
Habitually watching episodes of "Naruto" on t.v, eventually turned into an obsession when she watched 100 episodes in 48 hours.
In "Naruto" Cole found the best part of Anime is becoming emotionally invested in the characters. "When they laugh, you laugh along with them, (you) cry when they cry, and (you) cheer at all of their victories," Cole said
She pays tribute to her current favorite Anime series, "Fairy Tale," by carrying a lanyard decorated with fairy tale characters and applying a huge fairy tale sticker to her personal laptop.
In seventh grade, her love of Anime surged into her passion for art in the form of Manga, Japanese comics, drawing various types of girls and fan art from her favorite Anime.
Cole learned more about Manga last summer at the Dubuque Comic-Con. Full of many different vendors and attractions such as life size replicas of the TARDIS in "Doctor Who" and the vehicle in "Ghost Busters," some of the vendors were Manga artists who gave her a few drawing tips.
"It's really fun to talk to people who are more interested in Manga than you and know a lot more about the topic than you do," Cole said.
In the future, Cole hopes to pursue another popular Japanese activity called Cosplay, which is dressing up as a favorite character.
"People at Comic-Cons interact with cosplayers as if they really are the characters.  Cole said. "It will be really cool to pretend I am Ruby Rose (from the Anime "R.W.B.Y.") for a little while because she's so tough and popular with other cosplayers."