New Mascot Sparks Pride in West Delaware Students
New mascot sparks pride in West Delaware students.
Following an intense Friday Night football game, junior Peyton Aldrich discovered a new way to spark pride amongst the student body, a new mascot.
During a 2021 football game, the Hawks faced the Grinnel Tigers at home. During halftime, the Tigers' mascot ventured out to midfield and began entertaining the crowd. Being a spunky student, Aldrich requested permission from Principal Tim Felderman to join in on the fun. 
"The theme was winter, and I was wearing my hunting gear," Aldrich said. "Once I was out on the field, I crouched and acted like I was hunting their furry little mascot. We then messed around, danced, played rock paper scissors, and before I knew it, halftime was over."
After that night, Aldrich knew by the cheering crowd, extra rowdy student section, and the multiple Twitter polls that it was time for West Delaware to join in on the mascot fun. 
"The next week I brought the idea of a new mascot to Mr. (Tim) Felderman, and he was on board," Aldrich said. "Mr. (Matt) Weis told me if I could find a costume, he would find a way for us to get it."
During English III, Aldrich and fellow junior classmates decided on the right bird, picked out the color swatches, and got approval from Weis. Several weeks later the customized orange and black hawk arrived to the patiently waiting students.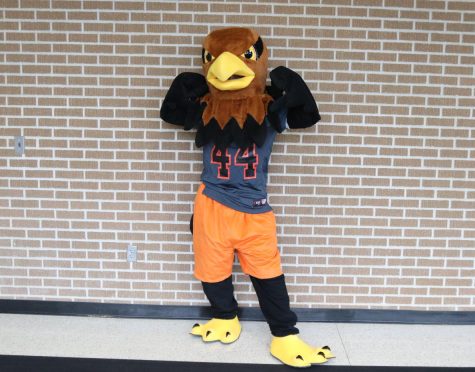 Since the arrival of the new mascot, the 2021-2022 student body was given the opportunity to name the bird. A week-long voting process knocked down names to the final three: Hank, Hercules, and Herbie.
The voting finished on April 8, and West Delaware's new mascot became Hank the Hawk!
"We are very excited about "Hank the Hawk," our new mascot," Weiss said. "We have had quite a few students ask about a mascot the past few years, so hats off to Peyton Aldrich through his Del-Co Best classwork and Mrs. (Abigail) Goldsmith for making it happen."