Swing Into Spring Solos
Singing a solo causes nerves that prevents many people from performing; however, over ten soloists participated in Swing Into Spring this year including Lauren Johnson (11), Maggie Millenkamp (9), Grace Jolley (12), Madeline Palas (11), Samantha Anderson (12), Laney Robinson (12), Alex Rattenborg (11), Grace Millenkamp (12), Abigail O'Rear (10), Lucas Beilby (12), and Juliette Weber (12). 
Pushing past the nerves that come with singing alone in front of hundreds of people, sophomore Abigail O'Rear sang the song "Scars in Heaven." 
"I was extremely nervous to sing this song," O'Rear said. "I'm always nervous to get on stage, but with this song, I really wanted to make a difference to people and touch someone through the song."
Despite O'Rear's nervousness, her relationship with God and support from friends helped her push past those nerves to perform.
"You never really get past feeling nervous, but I just prayed about it and hoped that it would go well and that I would sing it to the best of my ability," O'Rear said. "Also, knowing I am my biggest critique sometimes helps because not everyone hears what I think went wrong."
Singing a song with meaning motivated O'Rear to share it with others.
"This was not an easy song to sing, but knowing the purpose behind it made me want to sing it to the best of my ability and use what God has given me—my voice—to impact someone else and show God's light and love through me," O'Rear said.
Furthermore, with the amount of loss many people have experienced this year, O'Rear wanted to send a message not only to the people who attended but also to those grieving. 
"My faith is everything to me; it's a major part of my life, and it's who I am," O'Rear said. "I hope by singing this song that it gives someone hope that everything will be okay and that their loved ones aren't hurting anymore."
After completing her song, O'Rear is ready to sing again.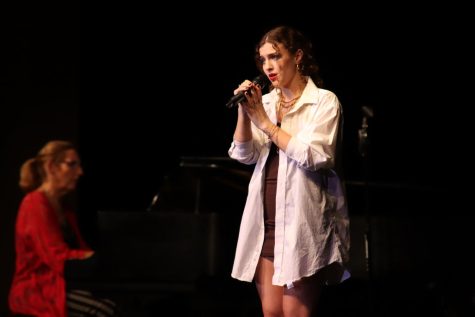 "I will perform any chance I get. I am grateful for every opportunity, and I always love doing it."
Juliette Weber chose the song "The House That Built Me," relating to the house she grew up in where she became the person she is today.
"That song was something I told my mom I was going to sing," Weber said. "Because I'm moving out of state for college, my dad will probably sell the house. I grew up there. It was literally the house that built me."
Although Weber has performed solos in the past, her hand still shook as she held the microphone.
"I tried to keep a steady rhythm and kept moving around," Weber said. "I kept the mindset of 'I'm not going to be able to do this again,' so I wanted to enjoy it and have fun."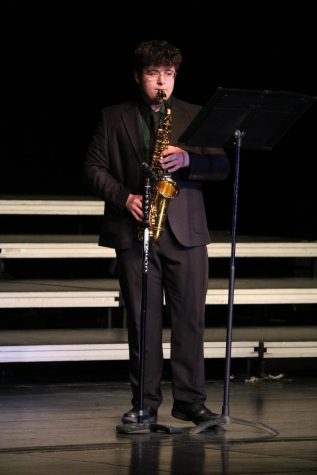 Using this song as a personal thank you to her community, Weber gained confidence as she sang.
"I will probably sing again at the dinner show," Weber said. "That's the reason I'm in music, because I like to perform. I like the emotional dynamic. It's scary, but it's fun."
Senior Lucas Beilby was the only performer to play an instrument. He played a saxophone solo of "Prince Charming" during Swing Into Spring. 
"I was extremely nervous," Beilby said. "It was one of my first times playing a solo without anyone else accompanying (like at jazz band or dinner show), so it was a newer experience that I was unsure of." 
Without the rest of the band to back Beilby up, his nerves were amplified. Additionally, teachers Jackie Hawkins-Keck and Jonathon Greene asked Beilby to perform only two weeks prior to the show. 
"I enjoyed the sound and technicality of 'Prince Charming' the most," Beilby said. "Tying in with the pretty random song choice, I feel it probably made it a bit easier to play. I feel like playing a song that has a deeper meaning to me would increase the nerves a lot, and I would be a lot more critical of my performance."
Beilby is eager to perform again with more preparation time.
"I'm definitely happy I did it as I feel that it was a good step to improving my instrumental skill," Beilby said. "On top of that, I was hopefully able to positively impact a lot of those who attended."
Leave a Comment
About the Contributor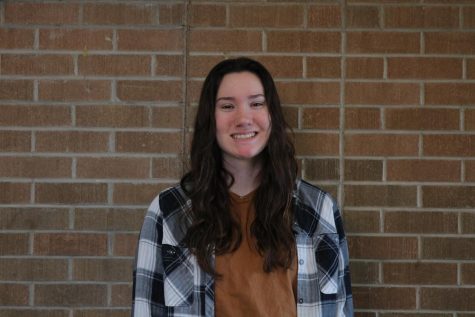 Jaci Bries, Staff
Hi! I am Jaci Bries, and I'm a senior. I am involved in volleyball, track, and National Honor Society. In my spare time, I enjoy hiking, four-wheeling,...