A True 'Lee'der in Choir
"Outgoing" and "respected."
This is how new choral director Leighton Ware described Aiden Lee (12), one of the unsung heroes behind the music department's success.
Ware recalls her first day at West Delaware. "Aiden was very welcoming the minute I came in," she said. "He wanted to help out in any way possible."
Lee was supportive of Ware's new ideas and positively influenced the underclassmen's mindset. He wanted to make sure everyone was respectful and ready to learn.
Lee distinguished himself in Ware's eyes with his leadership capability when he delivered a speech during one of the first few choir classes. He talked about his dedication to the program and motivated his peers to work harder and use the best of their abilities.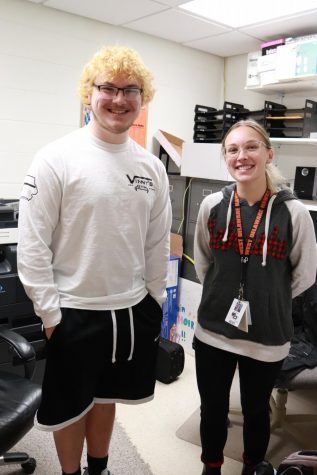 "That was the moment I realized how much of a leader he was," Ware said.
Moreover, Lee regularly guides his peers to set up the risers, leads warm-ups and sectionals, and conducts the class in Ware's absence with the help of a substitute teacher and other student leaders.
Lee picked up his motivation to step up as a leader his freshman year. "There were some really good leaders in the music department whom I looked up to," Lee said. His desire to "continue the legacy" has inspired him to take the lead over the years.
The departure of former choral director Duane Philgreen has also played an important role in Lee's growth.
"He really helped me develop my passion," Lee said of Philgreen. "I wanted to make him proud and show him that he left a lasting mark on us."
Lee adopted a unique perspective of success in his early high school years. He believes having his name on the all-staters placard is not important to be successful, as long as he is making progress and feeling pride in himself.
Lee's leadership skills have not been stationary over the years, as he is constantly striving to be a better version of himself.
"It's (still) stressful at times," Lee said. "But I've learned to compromise more and create (a) happy medium with others."
Lee has always wanted to leave a positive impact and set up new leaders for future generations. Today, Lee is overwhelmingly pleased with the number of underclassmen who look up to him.
"I won't be here forever," Lee said. "But I can pass down my ideas and my work ethic to others to continue the legacy of success."