The Marching Band's New Leader Steps Forward
It was finally complete. 
This marching season new band director Jonathan Green finally saw his marching band show, Nights, performed on the field. He developed the show in his college class, Marching Band Methods. 
The Pride Marching Band performed "Some Nights," "Night on Bald Mountain," "Music of the Night," and "Saturday Nights Alright (For Fighting)" in their show. 
Green practiced with the band for a little more than a month before they headed to their first competition.
"It was incredibly stressful," Green said. "I didn't have any frame of reference on what it would be like from the director's point of view."
The seventy-three members of the Pride Marching Band performed at multiple competitions. Two of them, the Linn-Mar Marching Festival and the Marion Marching Invitational, took place on the same day at Linn Mar High School.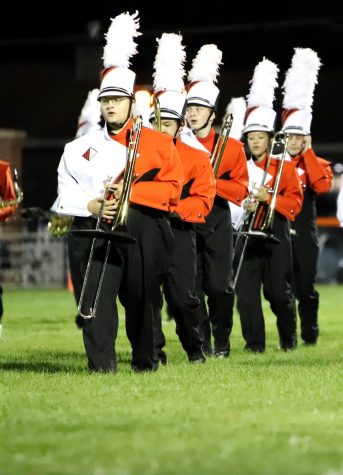 Just hours after their Linn Mar performance, where they received a disappointing score, Green felt the band achieved their greatest accomplishment of the season.
Before their Marion performance, the juniors and seniors collectively decided that they wanted the band to do the whole show without their music, which meant they had to memorize their last song in an hour and a half. 
 "At that moment I knew that the band members were able to see what I was able to see. They were able to achieve the moon if they really wanted to," Green said. 
For the next hour and a half the band worked on memorizing their song. "That momentum carried throughout the rest of the season," Green said. 
Vanessa Dittrick (10), a member of the marching band, also remembers that hour and a half leading up to the band's Marion performance. 
"I freaked out, freaked out completely," Dittrick said. "I felt like I wouldn't be able to memorize the whole song in an hour and a half, but I did it."
This marching band season was especially challenging; the freshmen and sophomores hadn't marched before, and it was Green's first time teaching a marching band. But it taught him many lessons. 
"One of the biggest things that I've learned because it's my first year teaching, is how to pace the instruction. I have a better idea of how to teach marching, how to teach drill, and how to teach music to everybody in a way that is more user-friendly," Green said.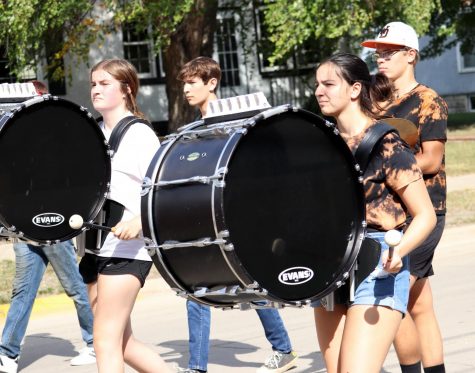 Despite the many challenges of this season, there were positive moments too. 
 "I've really enjoyed seeing the musical development of this group, the overall sense of excitement, because I think for some folks it was a little uncertain," Green said. 
The band worked hard to accomplish their goals while also having fun. "I really appreciated that," Green said.