Sharpened by Motivation
As iron sharpens iron, one runner motivates another. 
The girls' cross country runners certainly motivated each other this season as the girls had one of the best seasons in years.
"We just had a tremendous season," assistant coach Jason Guyer said. "These girls put in a ton of work in the summer that hadn't happened in the past, and it just showed as the season went on." 
This showed when girls like Abigail O'Rear (10) started the season with a time of 30:47 and concluded with 24:51 and 26:21. Two freshmen, Josie McMahon and Abby Kass, also made the varsity line-up and stayed there most of the season. 
The season started off late in the summer when the girls raised money for a team trip to Colorado next summer by running twenty-four miles in twenty-four hours.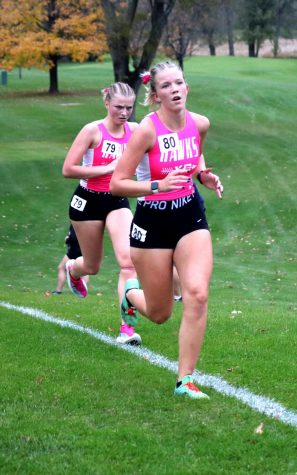 At the end of the season, Guyer and the other coaches looked at the team average and saw that from the top girl to the bottom girl, because of individual growth, this team was the best team they had ever had.
The coaches have been shooting to make this team something more than just a team but also a family. They have been emphasizing the importance of leadership within the group. 
Freshman Josie McMahon recognizes the importance of leadership. 
"The coaches are very dedicated and passionate about what they do," McMahon said. "They are also very personal with each and every one of us." 
Grace Millenkamp (12), Lucy Loecke (12), and Stephanie LaRosa (10) encouraged McMahon and went on runs with her at the beginning of the year. "My mentors have been very inspirational," McMahon said.
With this family culture that is being built, the coaches feel the potential building for next year. They believe the team feels this as well. 
"This year was very different from a lot of other years because you feel the buy-in," head coach Ben Moser said. "After seeing how well we ran this year, I think the girls realized we might be onto something here. We need to keep the ball rolling. This is exciting, and I love it."