Runners Finish Race, Start Journey
Grit, growth, and guts describe the boys' Cross Country team's mindset. 
Out of 22 runners on the team, 16 were underclassmen who ran their first ever 5k. 
In spite of the inexperience, the JV took first place at Vinton and second place at Starmont. 
JV runner Wyatt Willey (11) sliced off four minutes in just four meets. Wes Duggan (9) also shaved off almost four minutes halfway through the season.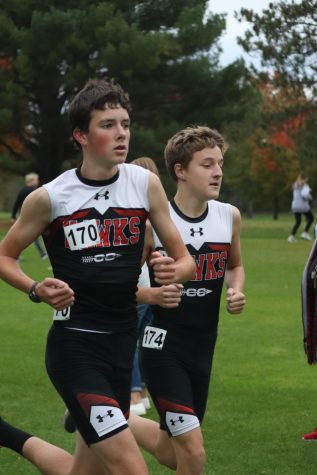 Varsity runners consistently grew throughout the season, setting personal records at many meets. However, with no runner having a personal record at Williamsburg, the team hit their low. 
"I got on the team after that meet, and they all responded," said coach Dale Meyer.  They came back the next meet with almost the entire team running their best race of the season. 
"That was the meet that defined our year," Meyer said.
On Oct. 20, the varsity team soared onward into the state qualifying meet at Decorah. Zach Wenger (10), who led varsity, placed 20th in the meet running his season best of 18:09, only five places away from qualifying for the state meet. The team came in 6th out of 13 teams.
Overall, the Hawks still saw this as a successful year. 
"How can you not?" Meyer said. "I know we didn't make it to state, but we have four sophomores, two freshmen, and a junior starting, and everybody's still getting better."