Traditions with Napkins and Frogs
West Delaware Students Audition for the Iowa All-State Festival
Cries of "It's the list!" echoed around the gym Oct. 23 as nearly 200 kids crowded around the large posters rolling down the bleachers and revealing whether four months of work were worth it.
The All-State audition day is full of memorable moments, including writing on napkins, receiving good luck charms, and waiting for the scroll of the accepted to be released.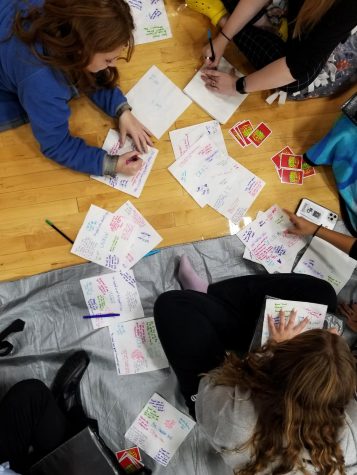 The West Delaware auditionees traditionally meet to eat breakfast and practice for their audition before they leave for their regional audition site.
This year, seven band auditionees and nineteen choir auditionees tried out for All-State at Independence High School.
To help ease the stress that awaited them and acknowledge their students' work, the directors gifted the auditionees small good-luck tokens.
This year Leighton Ware and Jackie Hawkins-Keck gave small plastic frogs.
While some students kept their frogs in their music binders after the audition process ended, Alex Rattenborg (11) had a different idea.
"I made it into a necklace!" Rattenborg said. "I love it so much. I have literally worn it for the past couple of days!"
Laney Robinson (12) said she loves the gifts as well because they started the auditionees' day off right with a positive attitude when they received the "super cute little notes and charms" that show their directors' love, pride, and support.
Sometime during the wait between arriving at Independence and the official All-State list reveal, West Delaware seniors traditionally write the names of every All-State auditionee on a napkin. Auditionees exchange napkins, write uplifting messages, and wish each other good luck.
"We usually get a bunch of napkins from the concession stand," Robinson said. "We just pass the napkins to everyone and kind of say 'good luck!' It's special. It's something unique to West Delaware." 
After the initial auditions, Grace Millenkamp (12), Lauren Johnson (11), Laney Robinson (12), Alex Rattenborg (11), Kamira Zehr (11), and Grant Kramer (11) were recalled. These six singers sang for two or three judges a second time and then settled down to wait for the official All-State list.
Finally, after the eight-hour wait, an All-State judge walked into the gym.
Students flooded to the wall of bleachers as the judge taped the lists of accepted sopranos and altos to the wall.
Shortly after, Rattenborg, Robinson, and Madeline Palas (11) began to celebrate as they saw their names printed in small black ink—they had been accepted into the 2021 Iowa All-State Choir.
"I honestly couldn't believe it," Robinson said. "It's crazy! Hopefully, I can meet people and make connections there."
Rattenborg feels the same way. "A couple of my friends from other schools got in as well," Rattenborg said. "I'm so excited to see (them) and meet new people!"
The 2021 Iowa All-State Choir of 600 students will learn and perform Jake Runestad's "Fireflies" as its premiere performance for the Iowa All-State Festival's biggest celebration yet.
"I'm super excited," Robinson said. "I think it's so cool that the piece was made for the All-State Festival and its 75th anniversary!"
The three West Delaware All-Staters are performing on Nov. 20 at 7:30 p.m. at the Hilton Coliseum in Ames.