Peaking at Paths & Possibilities
Business and Industry Day observed at West Delaware
On Thursday, Oct. 14, over 400 students from three Delaware County schools attended the Business and Industry day at West Delaware High School.
Jodie Bramel, member of WD County School to Work Committee, confirmed that representatives from 21 local businesses were present during the event. A total of 113 WD seniors and 122 WD juniors attended the program, accompanied by 90 Maquoketa Valley and 80 Edgewood-Colesburg students.
Participants were split into ten groups, with two groups at a time rotating between the gym and the multipurpose room.
Students moved around the gym and were required to talk to at least four businesses.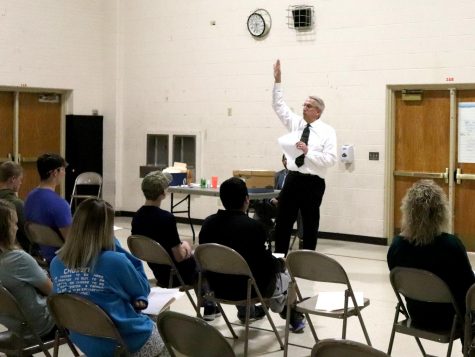 Furthermore, they learned about resumes and cover letters, as well as positive job interviews in the Multipurpose room. Tim Guyer from Kendric Forest Products and Victor Ochoa from Iowa Works conducted the session.  
Bramel and her team aimed to expose the students to a wide variety of job opportunities in the community.
"We want our students to understand that each business has many different departments with many different job opportunities," Bramel said. "For example, Rockwell Collins hires engineers and electronic technicians, but they also have human resources people, marketing people, web designers, and accountants."
The students left a positive impression on the employers with their interests and queries. Most of the students also enjoyed the arrangement and Bramel believes it was an "eye-opening experience" for them. She sets her sights on surpassing this year's success by having more variety of businesses and a hundred percent attendance of the students next year.
Kaytlinn Bounds (11), one of the participants, wants to pursue a career in nursing. She learned about a prerequisite of CNA for the CNA program from a Good Neighbor Home representative. Afterward, Bounds collected their business card and contact information as she plans to take CNA classes in January.
Bounds also had a positive social experience in the program. "There was a business representative guy who makes jerky," Bounds said with a smile. "He also gave me a Snickers. He was cool."