Making His Mark
Band Director Mark Philgreen Retires after 24 Years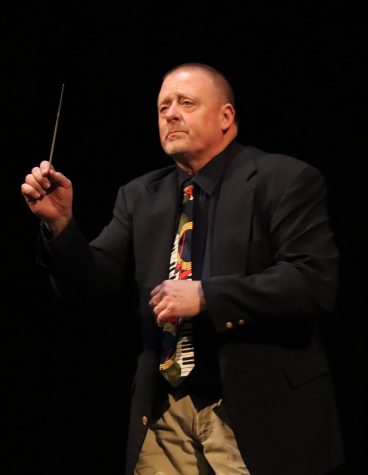 "It's something I've wanted to do since seventh grade," Mark Philgreen said in reference to teaching instrumental music. "My role model was Mr. Coberly. He made band fun, and that's what I wanted to do for other people."
Thirty-seven years of teaching later, Philgreen announced his retirement to a class of tearful band students. No longer will band kids see the familiar Hawaiian shirt in the music wing of the building after May 27.
After graduating Iowa Wesleyan University, Philgreen worked as the band director at Davenport Assumption, Andrew, Carlisle, Clarke, and Stratford before spending 24 years teaching instrumental music at West Delaware.
During his tenure at West Delaware, Philgreen directed various concert bands, marching bands, and jazz bands. He also instructed many students who went on to become All-State or Honor Band instrumentalists.
Philgreen considers his students' love for music one of his greatest achievements, as many of his former students have pursued careers in music or encouraged their own children to be actively involved in music.
Although Philgreen has accomplished many feats as a teacher, that's not what matters to him the most about teaching.
"Providing an opportunity for students to enjoy playing their instruments and making music together—I think that is my biggest accomplishment," Philgreen said. "That's more important to me than jazz competitions, best of centers, or making All-State. And we've done all that stuff. Anyone can (do that) and not have fun doing it. I've seen it happen. But we had a lot of fun."