Leashing Wrigley in for a Q and A
As students at West Delaware High School made their way to first hour in late March, a black, curly haired, overjoyed therapy puppy named Wrigley greeted everyone. Going on walks with students and allowing students to pet his ringleted fur, this pup made an impact on all and is very popular to say the least. 
On behalf of West Delaware Inklings, I sat down with him and ask him some questions! It must be noted that Wrigley was extremely difficult to leash in for a conversation as he spends much of his time at the middle school working.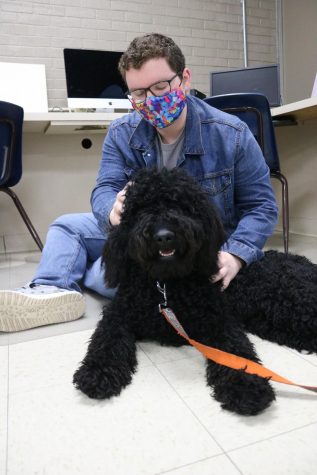 Q: Howl you doin? Introduce yourself! Where are you from? 
A: Hello! I'm Wrigley, a Golden doodle, born and raised in Manchester. I lived with my mom at Mr. Koerperich's before being adopted by Mrs. Alicia Soppe and Mrs. Martha Roseano at the middle school. They did a lot of research before adopting me. Golden doodles like me are very docile and make the ultimutt therapy dog! 
Q: Wrigley is a very unique name. How did you land such a title?
A: I am named after the Chicago Cubs iconic playing field, Wrigley Field. 
Q: How old are you, Wrigley? You seem young and youthful for a hardworking pup! 
A: That's right. I am only 11 months old.
Q: I hear you are a student, Wrigley! Tell me where you attend school.
A: I am still studying, just as my friends at West Delaware are. I am training to pass the Good Citizen Training through the American Kennel Club. The GCT consists of four eight-week courses—not as long as a WD school year, but it's ruff for a pup like me. I hope to get certified by the AKC so I can take the therapy dog test!
Q: That is absolutely PAWSOME! I heard you have been hired at West Delaware after being approved by the school board. Tell me all about it!
A: I was hired part time at West Delaware just at the beginning of this year! Mrs. Soppe and Mrs. Roseano asked the school board if I could help kids at West Delaware, and they were incredibly supportive. I have completed two rounds of training and will continue to train with the American Kennel Club Association. It is important I do not get overwhelmed so I can continue to practice and utilize my training. Because of this, I only work one to two days a week. My goal is to start full time for the 2021-22 school year. Anything is paw-sible!
Q: What do you do in your training, Wrigley?
A: During training I work on obedience and commands! This includes all sorts of fun tricks like sitting, laying down, coming when I'm called, and loose leash walking. These are in preparation for specific skills that I can use to be the best therapy pup ever! These skills include the following: leave it, wait, and stay. These skills are important so I can make people feel better in hospitals, schools, or senior living facilities in the future. 
Q: What does a day working at West Delaware look like for you?
A: My job is to support students' emotional well-being through Animal Assisted Intervention. AAI is a type of therapy where animals can help humans cope with their emotions, which means I get to play with students, go on walks and give them hugs, kisses and love! I love coming to school and helping kids! Really, it's the leash I can do.