West Delaware's Approach to the Pandemic
Superintendent Dr. Kristen Rickey informs the public on West Delaware's possible future learning plans.
As COVID-19 takes its toll on the world, students and staff at West Delaware High School have no idea if their current hybrid learning situation will escalate into full online or if they'll be allowed to return to every day, in-person learning in January.
"As long as we are safely able to stay in-person, that's our preference," said Dr. Kristen Rickey, District Superintendent.
The Delaware County Community School District is eligible for online schooling by staying consistently above a 15% COVID positivity rate in Delaware County and going over a 10% absenteeism rate at a particular building or the entire district. 
The big problem with going remote is how it affects the community.
"What about people who can't stay home and help students? What about people who need food?" Rickey said. "There's just lots of issues that make it hard to go remote."
West Delaware's current plan is to return the high school to every day, in-person instruction on Jan. 14. But students and staff are still uncertain about how that's really going to play out. After all, nobody knows what this pandemic will look like in a few months.
"I want to wait until we get close to January and see what else is happening," Rickey said. "If the governor is further limiting us, does that make sense for us to say bring everybody back?"
When West Delaware finally returns to in-person instruction, the way the school operates is without a doubt going to change a bit. But yet, nobody knows for sure what COVID safety guidelines will still be in place.
"The mask regulation will absolutely be in place," Rickey said. "We will try to separate students six feet apart as much as possible, but there will be some classes where we can only get them five feet apart, and that's going to be okay. It's classes where we can only get students two feet apart that are going to have to be moved into a bigger space, such as the auditorium." 
The school district doesn't just revolve around the high school. Lambert and the middle school still have a big impact on the COVID situation. If one of those two buildings were to go remote, the high school would still be affected, but only in certain situations. 
"If the elementary or middle school goes fully online because there's illness spreading among our students, we would probably go online at the high school too because students have siblings," Rickey said. "But if the reason was we have a lot of elementary teachers absent because they're being quarantined but we're not seeing that at the high school, we would probably keep them in person if we could."
COVID-19 is unpredictable, but the way West Delaware schools and Delaware County as a whole continue to adapt to the pandemic will determine their next steps.
"This will become a memory one day," Rickey said. "And when it becomes a memory, you and I will have had the privilege of living through history."
About the Contributor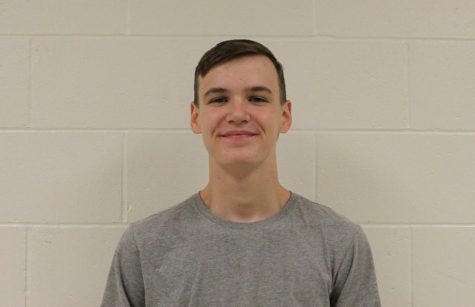 Zach Duggan, Staff
Hi, my name is Zach Duggan, and I'm a sophomore here at West Delaware. In my free time, I enjoy listening to music and spending time with my friends...