Crashing for a Cause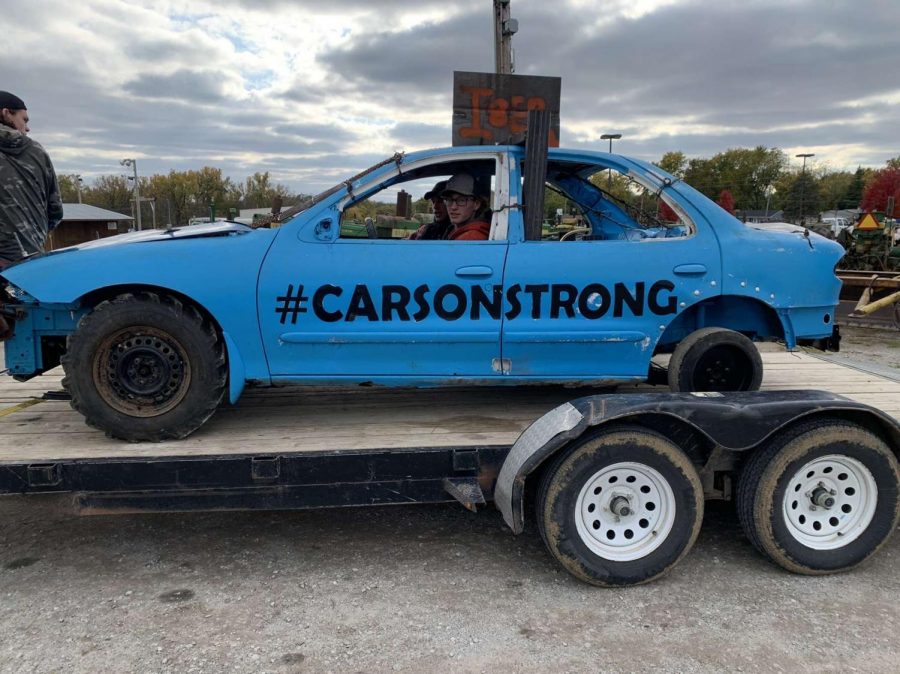 Aleah Heims, Editor
December 3, 2020
A demo car that would normally take six months to build only took a week.
Dominic Rave-Olsen built a demo car in honor of freshman Carson Crane, who recently passed away on Oct. 15. 
"So many people wanted to help," Rave-Olsen said. "I wouldn't have been able to have had this car built in time if it wasn't for everyone helping and donating supplies and money."
"I had this car for a while, and demo cars are painted so we ended up painting this car blue because that was one of Carson's favorite colors," Rave-Olsen said. "I had my mom print off stickers that said #CarsonStrong on it, and then we put them on the side of the car. We also had people who wanted to sponsor the car and donate stuff towards it, so we put all the sponsors on the roof."
"
It was just me trying to give back to them because I was pretty close with Carson and their family. It was just one of my ways of doing something for him that he would have had fun doing."
— Dominic Rave-Olsen
Rave-Olsen brought home first place after competing in the Decorah demo derby on Oct. 24 where he competed against 21 others in his heat.
Rave-Olsen opened it up to the community and decided to have people sign the hood of the car. He donated the hood of the car and the money he raised to the Crane family. 
Rave-Olsen raised over $2,100 in total from donations and sponsorships, with $800 coming from his win. 
"It doesn't really make me feel special," Rave-Olsen said. "It was just me trying to give back to them because I was pretty close with Carson and their family. It was just one of my ways of doing something for him that he would have had fun doing."