Jazz Band Competitions and Results
Jazz band has competed in many competitions throughout the school year.  
Their first competition took place at the Triton Jazz Festival on Jan. 9 in Fort Dodge.
 On Jan. 27, they traveled to State Jazz at Union High School. Jazz I received a Division I rating. Matthew Salas, senior, received a solo award. 
On Feb. 21, the jazz bands performed at Independence High School for Liberty Jazz. Salas, Jacob Vaske (12) and Angga Putra (11) all received a solo recognition.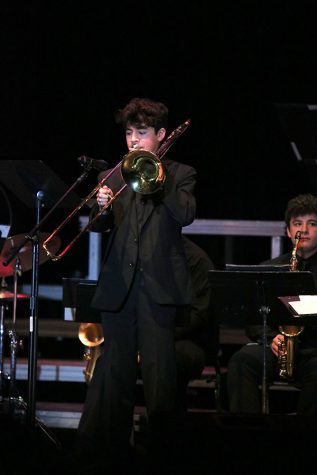 Feb. 27, the jazz bands performed at Coe Jazz in Cedar Rapids.  In class 3A in the second band division, Jazz II placed second out of seven bands.
Junior Taylor Hammer enjoys jazz band competitions. 
"It's like getting to hang out with my friends, to be honest," Hammer said. 
Hammer feels competitions can be a bit scary at first, especially when the judges give their critique. However, she has come to realize they are just there to help them become better musicians and have some fun.
Coming up on March 7, jazz band will perform at NEIBA.