Two Darlas Bring Sunny Days to Students Again
Darla Gaskill and Darla Weber Provide Free Help Sessions at the Sonshine Center
It only takes one.
Once one person believes in another, that person can reach greater heights than they ever thought possible.
Through helping students with their schoolwork, Darla Gaskill and Darla Weber work to be the inspiration many children are looking for—one study group at a time.
"I started a study group at church by myself because I had just retired, but I wasn't ready to stop teaching," Gaskill said. "About a year later, the number of students began to be too much to handle by myself. I heard Darla (Weber) was really good at teaching math, and I knew we could be a dynamic duo."
Every Wednesday from 1:30-3 p.m. and Sunday from 5:30-7 p.m., Gaskill and Weber host their free-tutoring sessions at the Sonshine Center. They have tutored together for over four years, and they don't see themselves stopping anytime soon.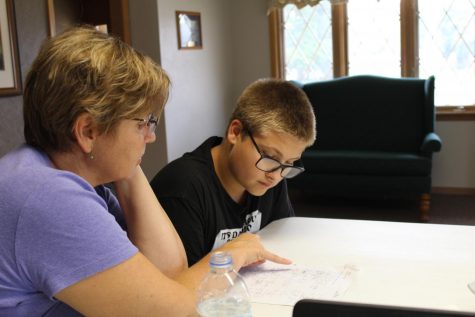 "There are too many benefits to stop," Weber said. "I love watching students reach their full potential even when they don't want to or just when the smallest light bulb turns on." 
Gaskill has the same ideas as Weber and loves her tutoring job too much to quit. "One benefit I get out of study group is that I keep learning new material I never got the chance to learn in high school!" Gaskill said. "It also gives my life a purpose. It makes me excited to wake up and know I'm going to help these kids."
Both Gaskill and Weber have seen multiple students benefit from the twice-a-week study group sessions. 
Svaeva Durbin (9) is one of the newest members of their Sonshine family. "I started going to study group pretty regularly during the middle of this year because I was feeling really behind in all of my classes, and I knew I couldn't teach myself everything," Durbin said. "The Darlas are so easy to form bonds with. You can tell they care about all of us individually, and they care about doing good at their jobs."
Weber usually focuses the majority of her time helping students with all math related classes from algebra to calculus. Many students also go to her to prep for the ALEKS test, which is required for students to take dual-credit math courses.
Hallie Wenger (11) spent many test-prep hours at the center with the Darlas, and it finally paid off. "Going to work with Darla (Weber) helped me because I was able to talk through problems I was stuck on and really learn them better than I could by myself," Wenger said. "This way of training obviously worked for me because with Darla's help I got the score I needed to pass out of the ALEKS test!"
Former West Delaware student, Nathan Bishop also dedicated numerous hours to studying at the Sonshine Center.
"I started going to the Sonshine Center sometime during sophomore year (of high school) after I began feeling really swamped with my schoolwork," Bishop said. "I preferred to go there because they helped me get all of my homework done in little time, so I could have the rest of the nights to myself. Both Darlas were also always really helpful, and they made learning more fun." 
Bishop, now a freshman at Kirkwood, drives to Manchester a few times a month for assistance with his classwork and just to visit.
With the help and dedication of both Gaskill and Weber, over 12 students received help with their first semester classes this year, and this number continues to grow every week.
"The two Darlas helped me realize that high school isn't that bad," Durbin said. "And that if you want to succeed, you just have to put the work into it."