Second Chance Breakfast
Faculty implements a new opportunity to eat breakfast in the morning
On Monday, Jan. 6, the high school kitchen staff started a Second Chance Breakfast. 
The kitchen staff is serving foods such as fresh fruit, donuts, yogurt parfaits, breakfast sandwiches, and drinks like milk and orange juice. Second Chance Breakfast is served during the passing time between first and second hours. 
Principal Tim Felderman thinks the breakfast is a good idea.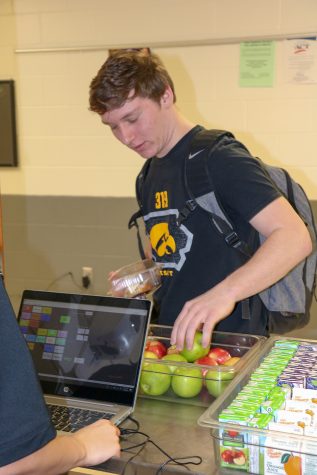 According to Felderman, kitchen staff members Kim Sperfslage and Tina Maloney approached Felderman with research that showed students would benefit from a Second Chance Breakfast. 
Their research showed that students who participate in the program would most likely be more engaged in class and test scores could go up as well. 
Felderman also wanted students to know that there will soon be a menu board up near the lunch line. 
Most students think Second Chance Breakfast is a good idea.
Melanie Loughren (11) loves it because she often is busy in the morning and has to run to class. "It's nice to have a second chance to eat. It's also nice because if you aren't hungry before first, you have the chance to eat again before second."  
Overall, students are grateful. Illiana Rolf-McGraw (11) said, "It's helpful for those who need it, and it seems as though students are grateful for the Second Chance Breakfast."
Jasmine Tran (10) normally doesn't eat breakfast. "I haven't gotten breakfast during that time yet. But I think it's a good idea."