West Delaware Students Honor Veterans on Nov. 11
West Delaware students gathered in the auditorium Nov. 11 to pay tribute to living and deceased veterans. 
Seniors Luke Farmer and Ashlee Vick led the Veterans Day program. Teacher Jordan Pollock chose Farmer and Vick for their involvement in Boys and Girls State, which is a week-long program where students learn about the government. 
  "I was so excited to be able to speak in the assembly," Vick said. "I was also a little nervous because I didn't want to disappoint the veterans."
The assembly started with the band playing and veterans placing the American Flag on the stage. Everyone stood as Vick and Farmer led the Pledge of Allegiance. 
Sigmund Bonebrake, Post Commander for VFW 667, took the stage and spoke about the importance of helping the community, honoring the flag, and solving problems around the world. 
"I was disappointed driving from Earlville to Manchester, seeing all the trash and cans in the ditch on the side of the road," Bonebrake said. He spoke about how people should always live up to their potential, study more and help others live up to their potential. 
He reminded students of the importance of working together. "Remember, the next time you see an eagle in the sky, look at it and see that it has two wings, one left and one right. Without one of them, the eagle isn't flying," Bonebrake said.
Senior Amber Hettinger then set the table of remembrance as Dawn Runde read the "Remembrance Table" poem. 
The assembly finished with veterans retrieving the flags and the band playing a song for each branch of the military.                                                                                                                       
About the Writer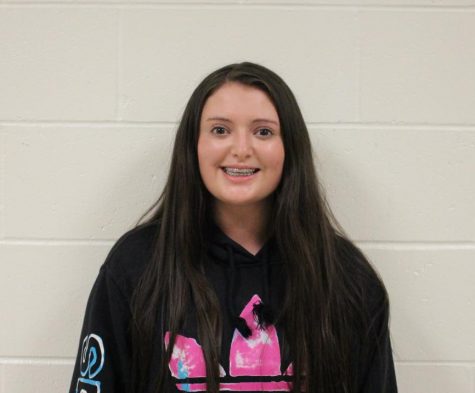 Gracie Robinson, Staff
Hello, my name is Gracie Robinson, and I'm a junior. I decided to do journalism again because I enjoy working on the yearbook pages and taking pictures....