Kickoff to Friday Night Lights
High School Football. It's not just about the players, but the whole community. After a summer full of optional Sunday night practices, weightlifting three days a week, and football camp, everyone is ready to see some action.
Senior Ben Petlon, a center, is excited about the upcoming season. "I can't wait to play Xavier. We haven't played them in a while, and I think that with the team we have this year, it could be a game you won't want to miss."
The varsity team finished the 2018 season with a record of 4-5 and fell short of making playoffs for the first time in 10 years. This pushes the players to work harder in practice.
"The way we ended the season last year definitely became a motivator to get back into the weight room and prepare as much as possible for next season," said junior Kieran Monaghan, a left guard and a defensive end. "Right now the team is taking it one practice at a time and trying to focus on just the game ahead of us. Making it to playoffs is on our radar, but not our main focus."
Coach Doug Winkowitsch believes that the team experienced a great preseason by traveling to Fayette for the Upper Iowa University Team Camp and learning the team's strengths and weaknesses. "The guys are getting better each day," Winkowitsch said. "We are excited to get to a game so we can know exactly who we are as a team."
The first varsity kickoff of the 2019 season for the Hawks will be at Dubuque Wahlert's field at 7:30 p.m. on Friday, Aug. 30. All students and fans are invited to join the Black-Out theme.

About the Writer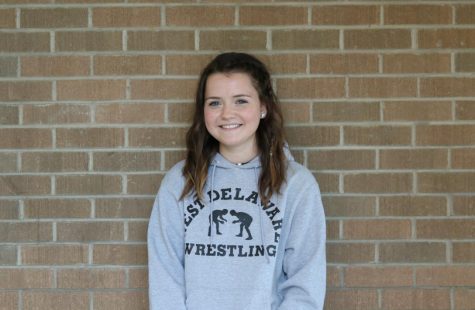 Isabelle Willey, Copy Editor
Hey! I'm Isabelle Willey, and I'm a senior! I'm involved with a lot including cross country, student council, FCA, NHS and art club. I love to take...