"My First Kiss Went a Little Like This"
Students and Staff Experience their First Kiss
Hang on for a minute...we're trying to find some more stories you might like.
From watching fairy tale movies to practicing in the mirror, everyone waits for the perfect first kiss.
Beating her sisters to their first kiss, freshman Ella Koloc experienced this milestone with an older boy when she was five years old.
"My family and their friends always go sledding down a big hill, and we got to the bottom of the hill. It just happened," Koloc said. "I was five years old. I thought I was the coolest person ever."
Others encounter their kiss later in life. Teacher Jennie Voss experienced her first kiss when her boyfriend dropped her off in her parents' driveway.
"
I remember I was so nervous my hands were clammy, and my face was beet red,"
— Teacher Jennie Voss
"I remember I was so nervous my hands were clammy, and my face was beet red," Voss said. "I opened my door really fast, shouted 'bye' real abruptly and probably looked really dorky running into the house hoping my parents didn't see. I was such an awkward kid."
Some people plan it so it's the perfect temperature, the perfect view, and the perfect kiss as senior Paighton Lindauer's boyfriend did their freshman year.
"I don't know how long he planned it," Lindauer said. "We went for a four-wheeler drive through the fields during sunset, and we were talking. Then he stopped and looked at me and kissed me."
When neither one wants to be the first one to kiss, the couple has to compromise. Senior Claire Rausch and her boyfriend their eighth-grade year decided to play a game to determine who would kiss who.
"We were playing a friendly game of darts, and we decided whoever loses has to kiss the winner," Rausch said. "I lost though so I had to kiss him first."
About the Contributor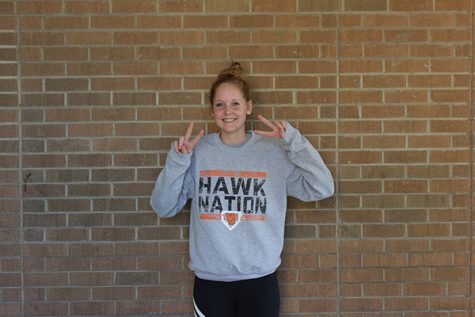 Claire Demmer, Staff
I am Claire Demmer and I am a junior. I am involved in softball and volleyball. You can find me usually laughing at my own jokes and playing with my cats.