Seniors Experience Life After High School in Real Life Acdamey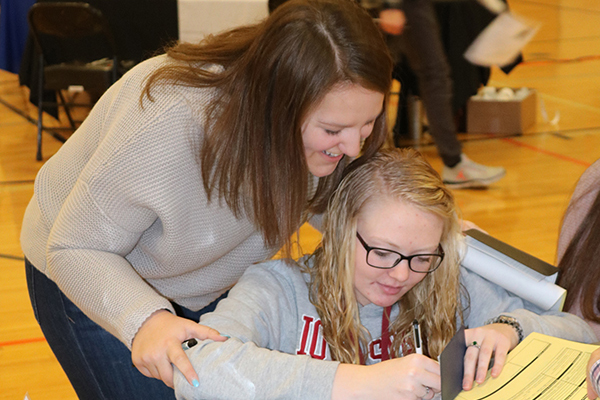 Hang on for a minute...we're trying to find some more stories you might like.
On Thurs. Dec. 6, seniors participated in a life simulation called the Real Life Academy. The senior class was divided into four groups and went through the process of life starting at the age of 27. Students visited a series of tables, some with fate cards where they could receive a ticket for texting and driving, face an emergency surgery, or possibly win the lottery. Twenty-five local businesses volunteered to help the seniors through the simulation.
Nick Bradley:
Bradley was a graphic designer and was able to manage his money pretty well in the beginning. The first objects he bought were a house, car, car insurance, and health insurance. At the hospital table, Bradley grabbed a card saying he needed a kidney transplant that would cost $8,000. Since Bradley had health insurance, instead of paying the full amount, he only paid $5,000.
Nick's Take Away:
"I learned that you can't get always get everything you need and that you need to always watch what you buy."
Peyton Carlson:
Carlson was married with two children and a dog. She was an FBI agent, and her husband was a school counselor. She started by paying off her student loans, buying a house, and purchasing vehicles for herself and her husband. She also had to pay insurance for her vehicles, house, and health. At one of the tables, she drew a texting and driving ticket. Carlson managed her money well until it came time for buying groceries and paying for childcare. The cost for groceries and childcare was substantial, taking away most of Carlson's money. She also donated to charity. In the end, Carlson was supposed to leave money behind for her children to use so she ultimately ended with zero dollars.
Peyton's Take Away:
"This really helped me because anyone who knows me knows I have to spend money, so it helped me, I think, to know how to save more and how things work in the real world."
Hayley Cook:
Cook was married with a five-year-old and a baby on the way. She worked as a respiratory therapist while her husband was a specialist in human growth. Cook used her money wisely until the hospital table when she had to spend $2,465 on an emergency appendectomy. After that, most of Cook's money was gone, and she had to find unique ways to buy groceries for her family.
Hayley's Take Away:
"What I learned is to spend money wisely and pay attention when getting a car and a house. Some of the houses we had to choose from were huge but expensive, so pay attention and spend wisely."
Ethan Glick:
Glick was married with a one and a three-year-old. He worked as a dietician, and his wife was a nurse. Based on what he had heard in the past from other seniors, Glick chose the second cheapest house. Glick figured that something would come up, and he would lose a majority of his money, so in the beginning, he managed his money pretty well. He ended up losing his job and had to work two part-time jobs in order to support his family. Toward the end of the simulation, he put $200 in his retirement fund and ended with a decent amount of money left over.
Ethan's Take Away:
"Essentially, I feel like the message they're trying to get across was that you should rarely spend money on yourself or extra things to have fun because you might lose your job or your dog (may) bite someone who sues you for $100."
Parker Ostrander:
Ostrander was 27 and married with two children. He worked as a neurobiologist, and his wife was a floral designer. Ostrander said he did not struggle with money throughout the simulation, but at the fate table, he won $300 from church bingo. He used this money to help pay for childcare. In order to retire, Ostrander had to invest $100. He ended with $150 at the end of the simulation.
Parker's Take Away:
"The biggest thing I learned was that children are very expensive, more expensive than what I thought they were."
About the Contributors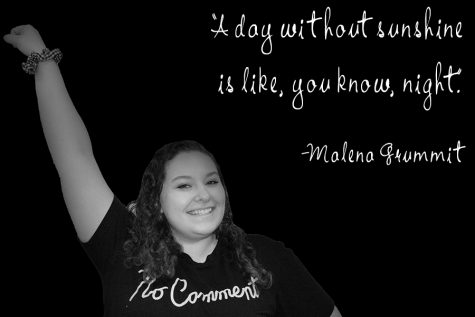 Malena Grummitt, Staff
I am Malena Grummitt, and I am a junior. I participate in football and basketball cheerleading, speech, show choir crew, and the music department, I enjoy...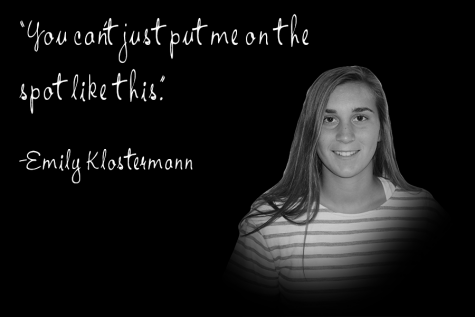 Emily Klostermann, Contents Editor
I am Emily Klostermann, and I am a senior. I am involved in softball, NHS, and FBLA. My favorite t.v. show is Grey's Anatomy and my favorite foods are...