Match Made in the Ring
Brooks Begins her Boxing Journey.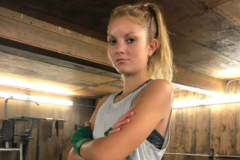 After watching Holly Holm, a professional mixed martial artist, on television during May of 2017, freshman Mackenzie Brooks began her boxing journey.
On Mondays, Wednesdays, and Thursdays, Mackenzie trains at the Cedar Valley Boxing Club in Waterloo. She trains five to six hours a week.
Her parents Eric and Tammy Brooks inspired her to pursue this passion.
"We have videos from her first week to this point, of almost six months later, and are amazed at how far she's come," Tammy said. Tammy feels that not only has Mackenzie gotten stronger, but she has also found her passion.
Mackenzie chose boxing because it helps her relieve her stress. Also, she finds it unique because "no one else does it in Manchester."
"She started with the intention of just training, but after talking with other fighters and coaches, she decided she wanted to actually get in the ring," Tammy said. "She has become very aware of how much blood, sweat, and hard work goes into this sport, but she absolutely loves it."
While boxing, Mackenzie wears protective gear such as headgear, wraps, mouth guards, and gloves. While wearing the protective gear, she has never received any serious injuries, but she has received a black eye and multiple bruises.
During practice one time Mackenzie was sparring with one of the best teens at her facility. Before going into the ring, Mackenzie's coach came up to her and told her to do her best.  He told her to "go after him."
"After a few times getting hit, I started getting back at him," said Mackenzie, who ultimately ended the match with her first black eye. Although Mackenzie did not win that match, she learned "to never give up and learn from what you didn't do in that match."
Mackenzie has not formally competed with anyone yet, but she is waiting to hear from her coaches about a possible upcoming match.
According to Tammy, Mackenzie will be participating in periodic fights throughout the winter and spring.
"I look forward to finally be able to fight in an arena so I can finally compete," Mackenzie said.
Her favorite part about boxing is being able to train with a professional, and she would like to continue this into her adult life and become a UFC (Ultimate Fighting Championship) fighter.
Mackenzie Brooks

About the Contributor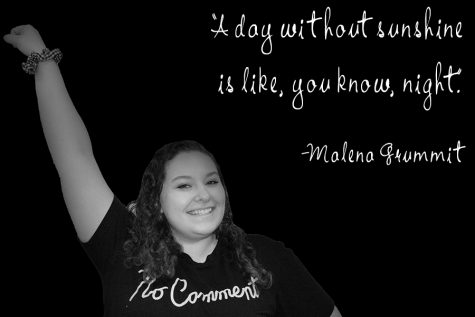 Malena Grummitt, Staff
I am Malena Grummitt, and I am a junior. I participate in football and basketball cheerleading, speech, show choir crew, and the music department, I enjoy...