Thespians Festival
Thirteen West Delaware High School Thespian students attended the Thespian Festival at the University of Northern Iowa on Nov. 16 and 17.
The day consisted mostly of competing, watching other schools perform, attending workshops, and visiting with college representatives.  
Students performed senior Tyler Salow's 23-minute original play called "Voices." Salow's play included seven main roles and was about a teen who suffers from anxiety and depression.
"The play was about visualizing your problems and emotions, which makes them easier to understand," Salow said.  
Also at the festival, Taylor Hammer (10) was elected as an Iowa Student Thespian Officer (STO).
Hammer provided several ideas about the future of Iowa Thespians to the previous student board. As an elected officer, Hammer will help organize and help plan for future Thespian events.
"I could not do this without my troupe. During the process, my friend Sheeley McMahon and our director Tina Ostrander were a big support system," Hammer said. "They helped me edit and review my essays and pushed and encouraged me."
Two groups of West Delaware students competed in an improvisation competition. One group consisting of Parker Ostrander (12), Camryn Borchardt (10), Grace Reiss (12), and Amber Cook (12), earned second place in the state.
"Overall, I was very pleased with our results," director Tina Ostrander said of the improvisation.
Reiss also participated in the All-State Cabaret, which involved one student from each school. Representing West Delaware, Reiss learned the choreography and music in two days before her group performed in front of  1,000 thespians. They sang and danced to popular theater songs such as "Defying Gravity" and "Rewrite the Stars." Being a part of the Cabaret, Reiss was part of a trio that sang "Let Me be Your Song" from the musical "Smash."
"It was very scary, but mostly super fun," Reiss said. "I met so many new people who were funny, kind, and hard working. Everyone supported each other, and it was a great time!"
About the Contributor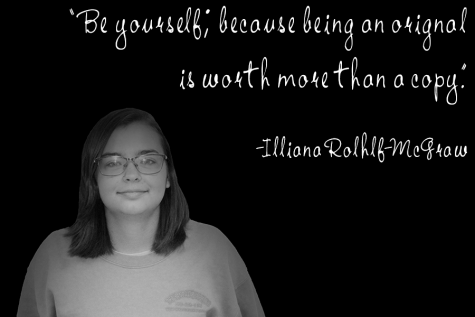 Illiana Rohlf-McGraw, Staff
My name is Illiana Rohlf-McGraw, and I am a sophomore. I'm only involved in cheerleading, but I also work at Dairy Queen. Something interesting about me...