April Brings Snow Showers
Athletes and coaches are experiencing an unusual kickoff to their spring seasons.
Two inches of snow covered the ground a week after the first official day of spring, cancelling the first boys track meet. This first spring cancellation snowballed into eight more cancellations and seven postponements all within two weeks due to persistent cold temperatures and recurring snow.
"I don't recall the start of spring ever being like this," boys track coach Doug Winkowitsch said. "We've had seasons where it's been hit and miss with a few meets cancelled here and there, but I've never seen a season where whole weeks have been taken out."
The weather has forced teams to move practices inside and to modify their workouts. Track athletes run in the hallways while the soccer and golf teams practice in both the upper and lower gyms throughout the evening.  
While inside, both track teams complete workouts in the hallways and lift in the weight room, which limits their pre-season preparation.
"Running the hallways is hard on our athletes' shins, so we've been doing more weightlifting," Winkowitsch said. "There's just not enough room or equipment for our runners to get in shape and for our jumpers and throwers to practice."
The soccer teams are also limited while practicing in the gym.
"We don't really get the feel of how big the field actually is when we practice in the gym," senior Madalynn Burke said. "The gym is just so small compared to the actual soccer field."
Using putting mats, the girls and boys golf teams mainly putt and work on their swings during practice.
"Before our first meet, we hadn't golfed a single hole," senior Rachel Haight said.  
Despite the cold weather, the girls and boys soccer teams and the girls golf team have managed to compete in a few competitions. Each team competed in temperatures averaging in the low 30s.
"It was freezing," Burke said. "When the ball hit my legs, it felt like I had a dead leg and couldn't walk."  
With April 19, the cutoff date for the Drake Relays, quickly approaching, track athletes are feeling pressure as their opportunities to qualify are slowly disappearing. During meets, athletes must finish with some of the top run times and top heights and/or distances in the state to qualify.
"I don't think the weather will affect our chances of making it to Drake," senior Cole Engel said. "We will get an opportunity to run before the cutoff, so we just need to focus on seizing our opportunities when they are presented to us."
Despite the slow start to their season, spring athletes are still determined to make the most of their season.
"We can't control the weather," track athlete Sabrina Welcher (11) said. "We have to make the best of our situation and work as hard as we can."
About the Writer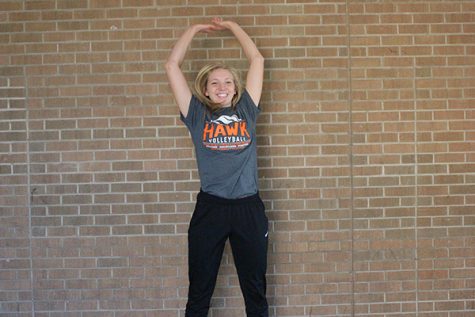 JoAnna Voss, Sports Editor
I am JoAnna Voss, and I am a junior. I play softball and volleyball. I also am an administrative assistant for the wrestling team. When I'm not beating...