Victory Royale
West Delaware Students Take Part in Fortnite Obsession
Hang on for a minute...we're trying to find some more stories you might like.
Jumping off a bus and parachuting down to break walls and to open chests, Fortnite players then fight others, grab their weapons and ammo, and run away from the storm to the safe zone.
This new video game, Fortnite, has taken over the gaming world, shattering records with 3.4 million players.
This game has captivated many West Delaware boys.
Many players are considered obsessed with playing Fortnite. Cooper Corcoran (12) has played the game 3-4 hours almost everyday since early January. 
"
"I play it so much because I hate being bored and it's a great way to connect with my friends."
— Cooper Corcoran
In addition, student have participated in the WaMaC Fortnite Tournament created by Benton High School students. On March 2, 15 schools competed in the tournament, playing from 3 p.m. to 3 a.m. West Delaware students made up five of the teams. According to Josh Seeley (9), the hosting school always seemed to win. Seeley's team played Benton for their first round, losing 146 to 337 and then moved to the losers bracket.
Next, Seeley's team played Vinton and won, 30-0. "We lost the second round of the losers bracket because the boys got tired of the tournament and didn't want to play in it anymore," Seeley said.
A lot of players ended up going to bed at around midnight because they got tired and flustered. However, Wyatt Thompson (10) stayed up for the full 12 hours. "If I'm winning, it's a pretty good time," said Thompson.
Another tournament player, Mitchell Ungs (10) said, "It's a roller coaster of emotions when I play with my team."
Beyond the tournament, some students enjoy the game in all kinds of locations. Adam Andregg (11) brought his PS4 with him while competing at All-State Speech. "It was really funny to watch people on my speech team try to play that haven't played before," Andregg said.
Nicholas Casey (11) brought his gaming device to State Wrestling, so all the wrestlers who weren't competing could have fun playing Fortnite in their spare time.
"It was all fun and games until a worker from the hotel came to our room and told us to quiet down," said Casey. "We told the worker we would, but we kept on playing and having fun.
About the Writer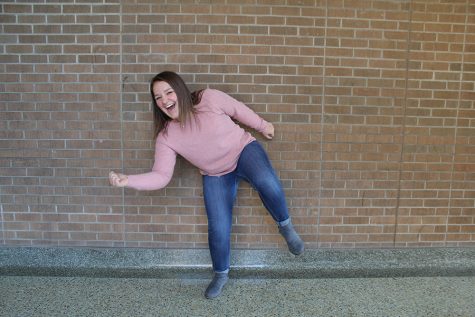 Claire Rausch, Social Media and Sports Editor
My name is Claire Rausch and I am a junior. I am involved in volleyball, FFA, 4-H, and I'm a wrestling administrative assistant. When I have free time,...