Girls' Basketball Maneuvers into Postseason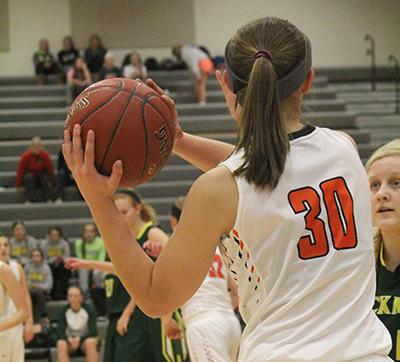 Hang on for a minute...we're trying to find some more stories you might like.
Postseason basketball is underway for the girls' basketball team after ending their regular season with a record of 8-13.
During the regular season, they defeated Central DeWitt and Dyersville Beckman both times they faced them and had a close loss (46-56) against Western Dubuque, the seventh-ranked team in 4A.
Last year the girls lost in the first round of districts.
"It was not fun losing on our home court last year," senior Jamie Glanz said. "We really want to prove that we are a contender to win our district."
Coach Rod Conrad is optimistic about the postseason. "Coming into the postseason, we need to work on patience, cutting down turnovers, and getting our shooting percentage higher," Conrad said. "We also need to play 32 minutes of lock-in defense."
Being healthy has also been a problem for the Hawks this year.
"Last season I thought we were a lot healthier," Conrad said. "It seems like we have struggled all year with having the whole team healthy. Hopefully, we can all be feeling better before postseason starts."
Conrad also is looking to the seniors on and off the court to help his team be successful.
"I think all of the seniors will perform," Conrad said. "I'm really not as worried about that. I think people will be surprised how well this team can be. The whole team has the ability and has put in the work."
The Hawks face Anamosa for the third time this season on Saturday at 7 p.m.