Golden Investment
Maddie Hoeger Raises Golden Retrievers.
Pure love—that's what senior Maddie Hoeger feels for her purebred golden retrievers. 
When Hoeger's previous dog passed away, she decided she wanted a new dog. However, she decided to purchase two dogs, instead of one.
"My past dog was lonely," Hoeger said.  "He didn't have anybody to play with."
Hoeger had to think of a way to convince her dad to buy two dogs. That's when she came up with the idea to breed the dogs and sell puppies.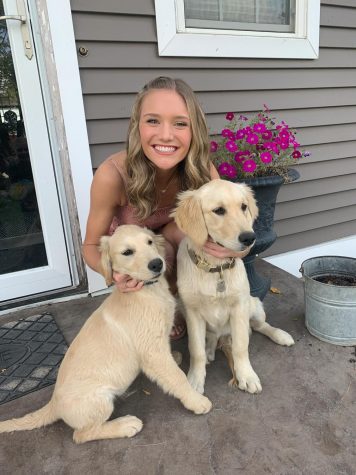 Hoeger's dad has always been strict about her working for what she wants, so when she came up with a business idea, he agreed to help with the expenses and buy the dogs—$1,000 each. 
"He wanted to invest in me," Hoeger said.
She agreed to do some work around her dad's farm and home in exchange for help with bills. Hoeger's dad paid for the dog food, but she paid for the vet expenses. 
Twice a day for several hours, she did chores, such as cleaning the kennels, feeding the dogs, and giving them baths. "It has been a task," Hoeger said. 
Although a lot of money went into this, more came out in the end.
"I sold each puppy for $500, and I had ten puppies," Hoeger said. 
With her earnings, Hoeger bought herself a car. She plans to breed her dogs one more time to help pay for her future education.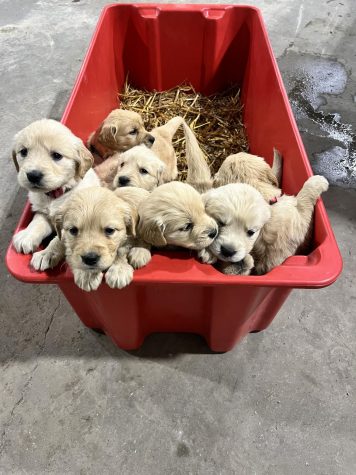 "Once I have that next litter, I'm probably going to fix both of them," Hoeger said. She doesn't want her dad or her sister to have to take care of any possible puppies when she is at college.
Hoeger has learned big life lessons since she started selling her puppies. They weren't as easy as she anticipated, and she learned to work for what she wants. 
"I've enjoyed having the puppies," Hoeger said. "It was the highlight of my days going to see them."
Hoeger also enjoyed seeing the pictures of the puppies in their new homes. "It was sad to see them go, but it was nice to see them with good families," Hoeger said.
Her dad was proud of her. "I complained one day," Hoeger said. And her dad told her, "You have to work for it. You have to have those early mornings and late nights."