Training With A Twist
Students adjust to weight room renovations.
Last summer, while construction was being completed within the high school, the football team was without a locker room or a weight room. 
To accommodate the athletes' training, the school provided A1 storage containers, which became temporary weight rooms.
"It was so cramped in there (the containers)," junior Julio Weber said. "There were 15 to 20 people in the containers per session, and it was hard to get workouts done productively." 
Weber did not feel the storage containers were ideal. 
"It did its job though because we could still work out when needed," Weber said. 
Although the A1 storage containers were a bit crowded, some people found their own solutions as opposed to training in a cramped lifting space. Senior Luke Reth went to a local gym to make his workouts more comfortable and productive. 
"Honestly, I didn't have to make many adjustments," Reth said. "Thanks to the local gym in town, I could train normally for the most part."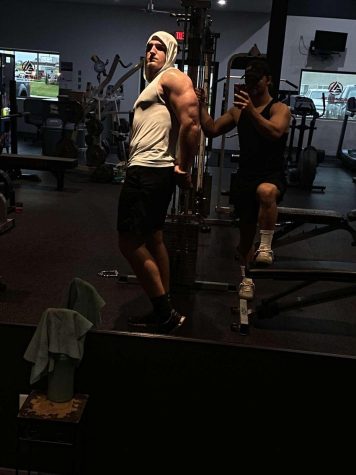 Not having a weight room wasn't the only problem though. Without locker rooms, storage space remained limited for personal football equipment as well. Most athletes stored their gear in their vehicles and changed right on the field. 
Sophomore Ryan Hilby looked on the bright side and made the best of every practice. 
"Not having a locker room wasn't great," Hilby said. "It wasn't that big of a deal though because it was still summer. At the end of the day, it was still football practice.