Students Tour Dubuque Art Museum
Hang on for a minute...we're trying to find some more stories you might like.
Sixteen Art Appreciation students went to Dubuque on Oct. 9 to experience both two and three dimensional art, a requirement for their college credit class.
Students toured murals from Voices Productions, a nonprofit art guild, and the Dubuque Museum of Art.
During the Voices Productions tour, students viewed over two dozen murals designed by artists from around the United States.
"At first, I took this class just to get another credit, but now I enjoy seeing what it offers from the beauty in the paintings and the history behind it," Grant Schnieders (11) said.
Teacher Jolene Pitzenberger-Timp enjoyed seeing the beautiful murals. "The colors were so vibrant and the detail was extraordinary," Pitzenberger-Timp said.
After the Voices Productions tour, students visited a traveling exhibit at the Dubuque Museum of Art. The display was created by artist from various religious orders. The artwork had to be completed by Sisters who had formal art training, had a degree in art education and had taught and exhibited art before.
According to Pitzenberger-Timp, students saw political and social art work.
"Out of all the artists, only two sisters are still living, which to me was fascinating," Pitzenberger-Timp said.

About the Writer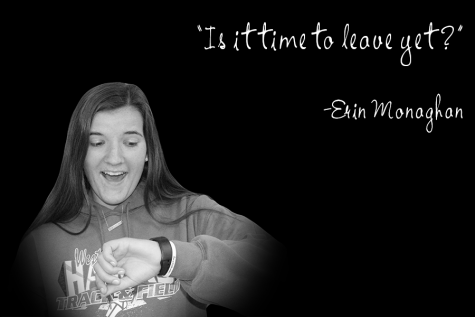 Erin Monaghan, Staff
I am Erin Monaghan, and I am a sophomore. I am in involved in basketball, 4H, and FFA. I live on a farm, and I love spending time outside. I would be a...