Red Ribbon Week At West Delaware
Hang on for a minute...we're trying to find some more stories you might like.
During the week of Oct. 22, West Delaware joined hundreds of other schools as they raised awareness about the abuse of drugs.
Throughout the week, TADA, Teens Against Drug Abuse, hosted many activities that encouraged students to remain drug-free.
"Our goal is to make sure that every student hears the message that choosing to use drugs and alcohol is not a good life decision and consequences often result," teacher Kathy Naughton, leader of TADA, said.
The week started off with a class discussion during first hour, and students received candy and a piece of red string representing their choice to support a drug-free life.
On Tuesday, Oct. 23, red ribbons were hung on doors containing students' reasons why they remain drug-free.
On Wednesday, Oct. 24, grim reaper scenarios were on display in the commons throughout the day, showing the impact that drugs can have on the user and the bystander.
On Thursday, Oct. 25, students participated in the Red Ribbon Week Photo Scavenger-Hunt. Students found the 16 official red ribbons on display, snapped a photo, and then received a prize once they found them all.
"The Photo Scavenger Hunt was a great way to get students involved," Melanie Loughren, member of the TADA club, said. "It was fun to set it up with my fellow TADA members."
On Friday, Oct. 26, students wore red and sported their red ribbon while participating in the Better Things To Do Than Drugs game fest. Each homeroom passed through the school playing various games to show that there are better things to do than drugs and received a bag of candy as a prize afterward.
Students, such as Kaylie Winston (10), especially enjoyed the game fest. "I thought it was cool how we got to go around the school and try out all the different kinds of games that TADA had provided," Winston said.

About the Contributor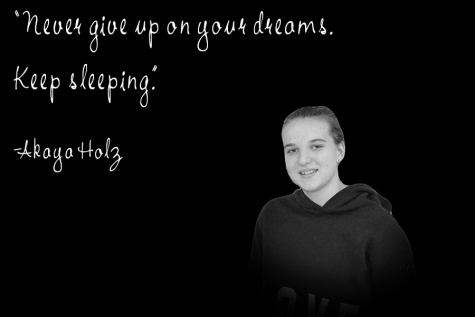 Akaya Holz, Staff
I am Akaya Holz, and I'm a sophomore. I've been involved in Rec Center Dance for eight years, and love to snowboard more than anything! During the summer,...