Premiering: Mechanical Bull
Hang on for a minute...we're trying to find some more stories you might like.
Do you have what it takes to ride the bull? To fit with the after Prom theme of "Love A Fair," the Post Prom committee has rented a mechanical bull for post prom, following the April 28 dance from midnight until 3 a.m.
According to Nikki McGrane, Post Prom committee member, students will not be able to ride this mechanical bull without having the Agreement for Assumption of Risk and Indemnification Release signed by the participant and a parent, if the student is under the age of 18. If any Prom-goer is even thinking about trying it out, they need to complete the form and return it to the high school office by April 13. This form can be found in the March newsletter and in the high school office.
Nick Casey (11) said he will ride a bull for his first time at after Prom. "I'm looking forward to the bull!" Casey said. "It will be a good competition with my friends."
On the other hand, Adaja Collins (11) said she has ridden a bull before, but her ride didn't last long. "I had a romper on, and it was not proper clothing to ride a bull," Collins said. "I would recommend riding a bull to others though because it was fun!"
McGrane's younger co-workers from other schools suggested a mechanical bull for Post Prom. "I thought it was a pretty cool idea and would be pretty intriguing to most high school students," McGrane said. "We all felt it would be something different and would be fun to do and watch the kids do."
Post Prom committee member Sarah Kluesner made reservations for this bull from Kid's Again Inflatable Fun Show; however, this is not an inflatable bull. It is a real mechanical bull.
Other attractions that will be at Post Prom include an inflatable wrecking ball, an inflatable jousting game, a life-sized Jenga game, and a hypnotist show.
"I'll be looking forward to the hypnotist this year," Collins said. "It'll be a good time to just hang out with friends and recuperate from the dance and the rest of the Prom activities."
As for the committee members, McGrane said she is looking forward to the event. "Each sub-committee has been working hard to make it a great Post Prom for everyone this year," McGrane said. "It will be fun to see it all come together."
About the Writer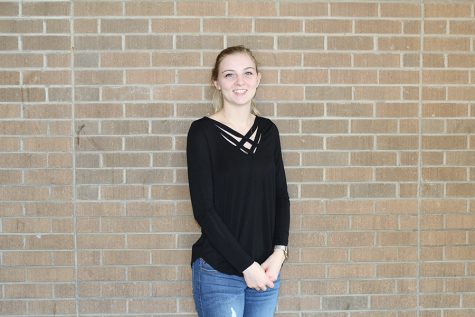 Elli Gudenkauf, Staff
I am Elli Gudenkauf, and I am a junior. I am involved in FBLA and NHS. You can catch me working at Chuong Garden or Lifetime Chiropractic almost any day...