Clothing Speaks Louder Than Words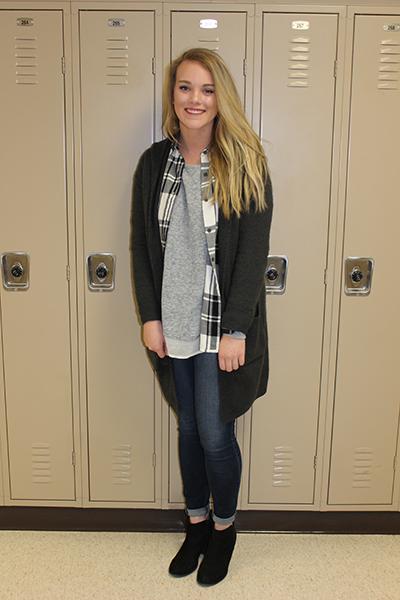 Hang on for a minute...we're trying to find some more stories you might like.
Students at West Delaware are dressing the part while making great first impressions on teachers and peers. They pull ideas from Pinterest and YouTube bloggers or dress in their own unique way by wearing clothes to match the holiday.
Anna Thole (12) describes her style as cute and classy. She likes to wear baggy tops with skinny jeans and wedge shoes. Thole also enjoys wearing choker necklaces or jean jackets with flannels.
"I wear these clothes because it makes me feel confident in myself," Thole said.
Thole watches fashion bloggers on YouTube to further her knowledge about different styles and to acquire ideas for different outfits. Kristin Lauria and Ashley Brooke are her favorite bloggers.
You could also find Thole shopping online or looking on Pinterest for the latest trends.
"I just love the whole thing about how some outfits look totally different on people and how some colors fit someone and others don't," Thole said. "Different fabrics and bringing old styles back in today just amazes me."
Thole is pursuing a degree in marketing and apparel merchandising. She dreams of running her own store or working with fashion magazines in the future.
Ashley Schmitt (11) practices professionalism when she picks out her outfit for the day. If she has a student council meeting or another meeting for school, she dresses the part with black dress pants and a nice shirt. Other days she enjoys wearing sweatpants or camouflage.
"I will pretty much wear anything," Schmitt said. "If I like it, I buy it."
Schmitt enjoys online shopping instead of going to a store and dealing with long lines and traffic. She looks for great deals while sitting in the comfort of her home.
Annie Cassutt (12) likes matching her clothes to the nearest holiday to spread spirit around the school. "I'm currently wearing a lot of Christmas sweaters because it's Christmas," Cassutt said.
Other than matching with the season, Cassutt wears anything floral. Pairing a floral dress with leggings is her favorite outfit. She receives a lot of her outfit ideas from Urban Outfitters or Forever 21 magazines. She also enjoys watching her favorite YouTube blogger Zoe Sugg, also known as Zoella.
Cassutt wears these clothes because she never knows if she will have to make a first impression on someone or talk in front of her peers.
"I really dress for myself," Cassutt said. "I love feeling confident and put together."