Boys Basketball Enjoys a 5-0 start to Season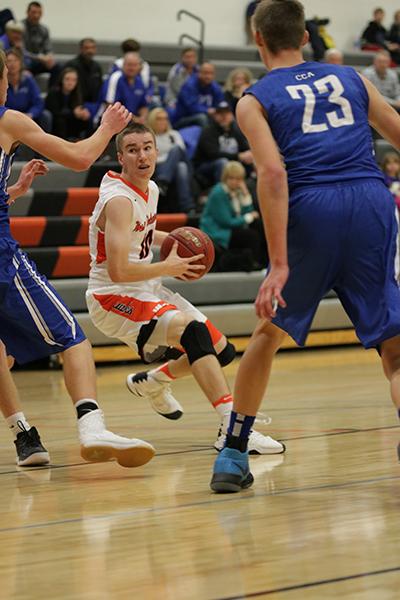 Hang on for a minute...we're trying to find some more stories you might like.
With a 5-0 start to the season, the boys' basketball team looks to continue improving upon last season's 16-7 record after being ranked second in Class 3A according to the Gazette boys' prep basketball poll.
The players put in solid offseason work, and Head Coach Matt Uthoff was pleased.
"We focused on a lot of individual skill development as well as team development," Uthoff said. "Additionally, we went to a few team camps that afforded us the opportunity to play some really good out-of-state teams."
Senior and returning starter Kyle Wright attributes their success to their involvement in basketball since elementary school.
"My grade and the grade below us started teams right away, and we've had experience in tough situations so we could still succeed in them," Wright said.
And succeed they have. They opened the season with a 45-31 win over Williamsburg on the road. The Hawks also defeated Clear Creek-Amana 67-49, Dyersville Beckman 54-40,  Central DeWitt 58-46, and Maquoketa 73-34.  
Another contribution to their current record is their depth. With seven returning players and a handful of juniors who dressed varsity last year, they have the necessary elements to dominate this season.
"Overall, I am very pleased with how the guys have started the year," Uthoff said. "We still have a long way to go to get where we need to be, but with the group of guys we have, we think it could be a special year."
The Hawks' leading scorers so far this season are Derek Krogmann (10), averaging 17.8 points per game (ppg); Tyler Kelley (11), averaging 13 ppg; and John Nagel (12) with 11.3 ppg.
Before Christmas break the Hawks play on the road against Mount Vernon on Friday, Dec. 16. On Saturday, Dec. 17, the boys' and girls' teams both play at Oelwein for a cancer benefit game. They will finish 2016 with a home game on Dec. 20 against Decorah.