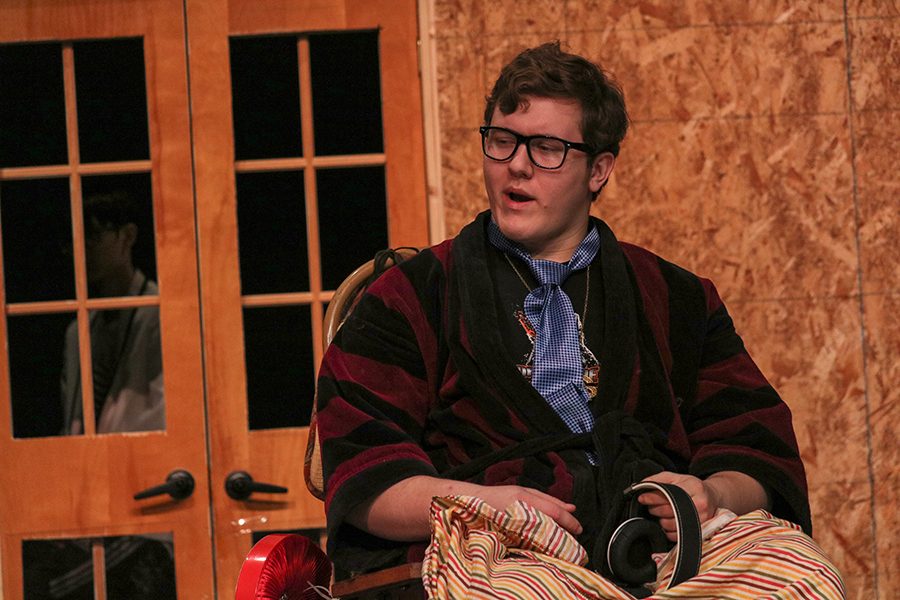 Tyler Salow
The Inklings staff wants to introduce readers to this year's spring play, "The Man Who Came to Dinner." Following is a report with actors speaking on behalf of their characters.
While traveling the world on his lecture tour, radio personality Sheridan Whiteside (Parker Ostrander) slips and falls on the ice outside of the Stanley residence in Mesalia, Ohio.
Local practitioner Dr. Bradley (Laiken Blommers) immediately tells Whiteside he needs complete rest for one month.
For the man who never seems to slow down, being told to stop is unexpected.
"He broke his hip so he needs the rest, but he keeps moving around in his chair," Bradley said. "He keeps yelling at me, but I'm sure he's thankful for my care."
Called to watch over the ailing radio host, Nurse Preen (Annika Sutter) was both eager and, for some reason, terrified of the man. "It's a great honor being called to watch over the Sheridan Whiteside, but he is a little bit unsettling," Preen said. "He keeps calling me names and yelling at me to do things that I'm not qualified for in even my nursing profession."
The Stanley household is forever changed as the hustle and bustle of New York life invades the Mesalia household.
"It's fantastic!" Butler John said (Jacob Butler). "I've always been such a big fan, and I'm so excited to have him in the house. He adds a little bit of spice to our home."
A little bit of spice does not even begin to cover the guests that rush in and out of the Stanley abode: musical genius Beverly Carlton (Olivia Neuzil), insect enthusiast Professor Adolph Metz (Casey Weber), and even international theater royalty Lorraine Sheldon (Grace Reiss).
"Oh, I'm just here to visit my dear old friend Mr. Whiteside," Sheldon said, "but if I must tell you, I may be walking away from this house with both a man and a play wrapped around my finger."
Neighbors report also seeing convicts, penguins, sarcophaguses, and even octopuses entering the home.
However, not everyone is excited about Whiteside's extended stay. Homeowner and businessman Ernest Stanley (Tyler Salow) wants Whiteside out of his house. "He's a nuisance and keeps meddling in my family's affairs," Stanley said. "I want him gone."
"I'm sorry. Mr. Whiteside is in one of his moods. I'm afraid today would not be a good day for an interview," Whiteside's secretary Maggie Cutler (Amber Cook) said. "He's healing, but I think being trapped in this house has begun to get on his nerves."
"Feel free to swing by and meet Mr. Whiteside!" Daisy Stanley (Taylor Hammer) said. "Who knows what you might see happen?"
Performances of West Delaware's "The Man Who Came to Dinner" will take place on Friday, April 12 at 7:30 p.m., and Saturday, April 13, at 6 p.m. in Hanson Auditorium.
Tickets cost $10 for adults and $5 for students and are available at the door or through the high school office (in person).