Student in Spain
Olivia Neuzil Travels to Barcelona, Spain, to Meet with Former Foreign Exchange Student.
Hang on for a minute...we're trying to find some more stories you might like.
Senior Olivia Neuzil recently expanded her classroom.
In late December, Neuzil traveled to Spain to visit her best friend and 2017-2018 West Delaware foreign exchange student where she learned about life and Spanish culture.
Laia López Rigol, along with her mother, welcomed Neuzil into their home from Dec. 15 to Jan. 8. Planning many activities together, Neuzil and López Rigol's adventures consisted of going to the beach and visiting a city in the mountains called Monserrat."You had to ride a cable car to get there," Neuzil said.
Having the opportunity to attend a few days at López Rigol's school, Neuzil's eyes opened to the differences between American and Spanish schools.
"
Adapting isn't always changing yourself. It can just be changing your point of view."
— Olivia Neuzil
"In Spain, there are no organized school activities," Neuzil said. "They are done outside of the school day and with no regulations. "Some (activities) go until midnight, and kids have class at six the next morning. A lot of times you also had to pay to go to the bathroom, and there was no free water anywhere."
Taking four years of Spanish throughout Neuzil's high school career helped her understand and speak the language. "I don't think I am fluent, but my skills increased," said Neuzil. "(Laia) translated for me sometimes too."
While in Spain, Neuzil ate traditional Spanish dishes. Some include caracoles (snails), boqueritos (tiny fried fish), and quail eggs. "The fish was fresh, the snail was slimy and the pastries were perfect!" Neuzil said.
The experience in Spain taught Neuzil many life lessons.
"I learned that there is a lot outside of Manchester, Iowa, and that we are so fortunate to live where we do and have some of the freedoms we have," said Neuzil.
Neuzil would love to go back to Spain if she has the chance. "It opened my eyes to the stupid drama back home and how we worry about the dumbest things in our little town sometimes," Neuzil said. "Adapting isn't always changing yourself. It can just be changing your point of view."
About the Writer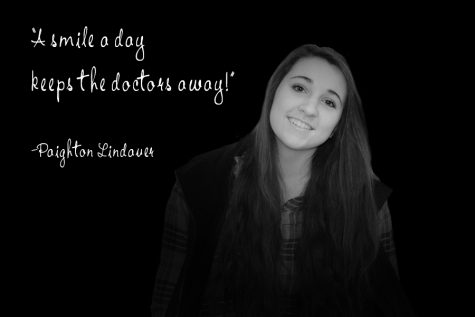 Paighton Lindauer, Staff
I am Paighton Lindauer, and I am a senior. I am involved in softball, volleyball and student council. In my free time, I enjoy watching movies or listening...